Do you ever wake up in the morning with a sore throat? Or do you suffer from hay fever? Then you may be sensitive to air pollution and/or pollen in the air!
Rooms and spaces can be filled with visible and invisible pollutant particles that affect your health. Air pollution can also have negative effects on children. Symptoms such as asthma develop more often in children who live in cities. So it's very important to make sure you breathe clean air when you're at home. Since air purifiers provide clean air by reducing the concentration of dirt particles, they are an asset to any home!
One of the best ways to clean the air is to use an air purifier, but what are these devices and what do they do?

What is an air purifier?
Air purifiers typically consist of several filters and a fan that simultaneously draws in and circulates the air. As the air passes through the filter, pollutants and particles are trapped by the filter and clean air is returned to the living space.
Air Purifier Applications:
Air purifiers are the ultimate remedy for hay fever
Air purifiers filter the pollen in the air. Especially in spring, this is ideal for hay fever sufferers! All it takes is for an air purifier to do its job in the room for a few hours and your eyes/nose will calm down.
In addition to pollen, a purifier can also remove fine dust particles from the air, so allergens, mold spores and viruses don't stay in your home! For viruses, however, you need a special filter because they are so small.
Air purifiers eliminate triggers for asthma attacks.
A common reason to buy an air purifier is to reduce asthma attacks. This is because asthma is caused by various "stimuli" in the air, such as dust mites, tobacco smoke, perfumes, etc. A good air purifier with a suitable filter will remove the stimuli that you, as an asthma patient, cannot tolerate. This automatically reduces asthma attacks!
Air purifiers remove exhaust fumes and pollutants from the outside.
In urban areas, the air can be very polluted due to the many exhaust fumes and nearby industries. As a result, there is a lot of particulate matter, soot, sand and ash in the air. It's not pleasant air to breathe when you're sitting at home watching TV! That's why an air purifier can be a good buy, because it removes pollutants from the air.
Purifiers filter the air and remove chemicals from the air.
Cooking and smoking can quickly give your living room an unpleasant smell. Opening all the windows is one option, but buying an air purifier is a better long-term solution. It also filters bad odors from the air! Air purifiers are also effective against pet hair and swirling dust. Both of these can also cause respiratory problems. With an air purifier, you purify the air in your home so much that you are guaranteed clean air for your loved ones!


CADR Percentage
When you are looking for a good air purifier, you will quickly come across the term CADR percentage. CADR stands for Clean Air Delivery Rate, which is the amount of air the purifier can clean at any given time. CADR is an international standard used by all purifier manufacturers. Often CADR is given in cubic meters per hour. The CADR indicates the number of cubic meters that the air purifier can effectively clean in one hour. Based on this measurement, you can easily compare different air purifiers from different brands!
Xiaomi is one of the leading air purifier manufacturers in the world. Currently, the range consists of different air purifiers, with different CADR, see the overview below.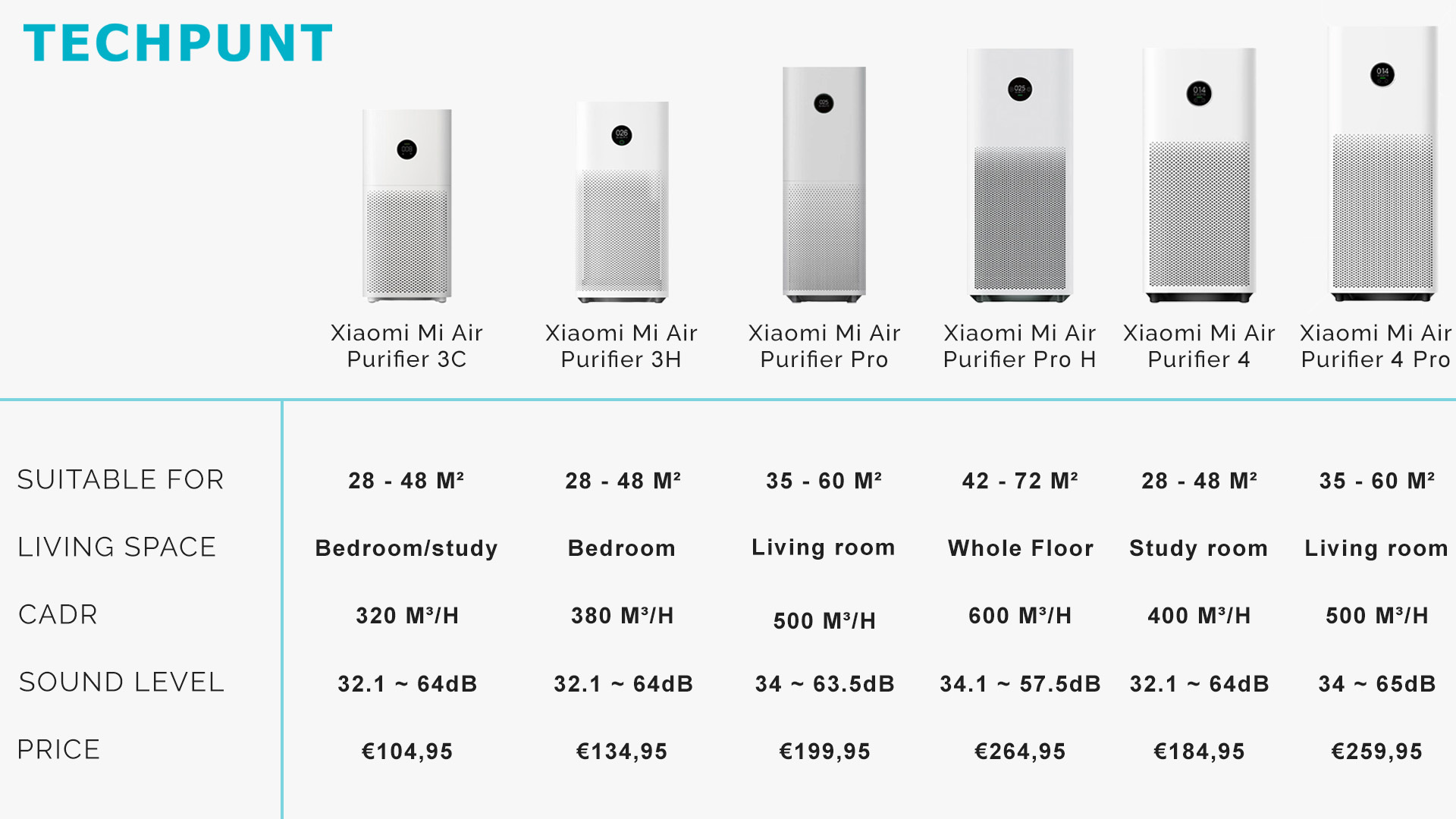 Comparative review of goods with Xiaomi purifiers
RTL News' technical department, RTL Bright, tested a few purifiers from different brands and price ranges on its website. Our Xiaomi Mi 3H Air Purifierhttps://www.techpunt.nl/en/xiaomi-mi-air-purifier-3h.html (€134.95) was competing with the AEG AX91-604 (€550) and the Dyson Pure Hot+Cool Cryptomic (€699). RTL Bright concluded that this Xiaomi Purifier 3H works just as well as the Dyson Purifier, while the latter is no less than 4 times more expensive!
In this test, it is particularly clear that the Xiaomi Mi air purifier performs very well for its price. To clean an entire large room, the Xiaomi Mi air purifier comes out of the test as well as the Dyson, despite the price difference of 550 euros! In conclusion, the Xiaomi Mi 3H air purifier was recommended, because of the value for money.
See this link for more information: https://www.rtlnieuws.nl/tech/artikel/5198831/luchtfilters-dyson-aeg-xiaomi
Xiaomi Purifier - A device and a filter for every household
In addition to its flagship device, the Xiaomi Mi Air Purifier 3H, Xiaomi offers several other devices and filters on the market. In addition to the Purifier 3H, we also have its little brother, the Mi Air Purifier 3C, with a reduced CADR but also immediately a more affordable price of 104.95 €.
To "cover" larger living spaces with Xiaomi purifiers, we end up with the Xiaomi Mi Air Purifier Pro (€ 199.95) and the Xiaomi Mi Air Purifier Pro H (€ 264.95), as shown in the table above. The Xiaomi Mi Air Purifier Pro H is the latest model (late 2020) with a higher CADR, longer range and longer filter life. The price of the Xiaomi Mi Air Purifier Pro H is a bit higher.
There are also different filters available for Xiaomi purifiers. By default, a filter is included with a Xiaomi purifier. However, the type of filter may vary from model to model. The Purifier 3C and Purifier Pro come with a 3-layer filter, consisting of a charcoal filter, a HEPA 11 filter and a basic PET filter. The charcoal filter removes unpleasant odors from the air, while the basic PET filter removes large dirt particles such as hair and dust. The HEPA 11 filter, meanwhile, rids the air of bacteria and pollen.
The newer Purifier 3H and Purifier Pro H models also have a 3-layer filter, but these have the latest HEPA 13 filter! A higher HEPA level means that the filter can hold more and smaller dust particles. This means that the Purifier 3H and Purifier Pro H are even better at filtering pollen, bacteria, dust and allergens from the air. One of the newer models is the Xiaomi Mi Air Purifier 4 Pro. With an updated and larger filtration system, it can remove even more harmful particles from the air than its predecessors. Finally, the Xiaomi Mi Air Purifier 4 has been released, the smaller brother of the Purifier 4 Pro. In terms of capabilities, it is similar to the Mi Air Purifier 3H, but with an improved CADR percentage!
However, it is also possible to order a separate filter specifically for certain uses. Below you will find an overview of the 3 different filters we offer and the corresponding objectives:
These three filters are suitable for the Xiaomi Purifier 3C, Purifier 3H, Purifier Pro and SmartMi Air Purifier. 
This filter is only suitable for the Xiaomi Purifier Pro H.
Order your Xiaomi Purifier today!
Do you want to protect your family from polluting particles such as dust, pollen and allergens and enjoy your home with clean livable air? Then order your Xiaomi purifier today! If you are looking for a purifier that offers an impressive balance between price and performance, Xiaomi purifier is your best choice! We at TechPunt.nl offer all models of the Xiaomi Purifier at the lowest price guaranteed in the Netherlands and Belgium!
Click here to order your Xiaomi Purifier now.