Xiaomi 5000mAh 2 Powerbank
Ordered before 20:00 -> Next day at home
Pick up at 3000+ PostNL pickup points.
Lowest price guarantee
Above 75 euros no shipping costs
2 years warranty
Personalized customer service
Information
Xiaomi 5000mAh 2
The powerful 5,000mAh Xiaomi 2 powerbank provides your phone always with power!
Stylish power bank with a slim design
Looking for a handy powerbank for traveling? The Xiaomi 5,000mAh 2 powerbank will certainly suit your needs! This model has a stylish and particularly slim design, with dimensions of 125 by 69 by 9.9 millimetres. The compact size of the powerbank makes the model weigh only 156 grams. This makes the model much lighter and smaller than its big brother, the Powerbank Xiaomi 10.000mAh 2i/2s. With 5,000mAh, this model has enough energy on board to effortlessly charge your phone to 100%.
You can use the USB port at the bottom of the powerbank to charge a phone or tablet. The powerbank itself is charged through a micro USB port. Also handy are the integrated lights, which indicate how full the external battery still is! So you know exactly when it needs to be recharged.
With a special low-charge setting this powerbank is extremely suitable for charging bluetooth headsets and fitness trackers. This is because these devices use a less powerful charging method than normal devices. If you double click on the power button of the powerbank, it switches to this special low charge mode.
Safe and quick to charge Xiaomi 5000mAh 2 power bank
Like many other Xiaomi products, the Xiaomi 5,000mAh 2 power bank is equipped with a high-quality safety system. In the event of an overload or excessively high temperature, the power bank will automatically switch off. The device can then be reset with the on/off button. In this way not only the powerbank is well protected, but also your mobile phone or tablet!
It is possible to fully charge the external battery in 3.5 hours, thanks to the 5V/2A charger. The full battery enables you to charge the iPhone 6, for example, no less than 1.8 times. An older model iPhone can even be charged more than twice.
Advantages of the Xiaomi 5000mAh 2 powerbank:
Stylish and slim design powerbank;
Sufficient power to charge your phone several times;
Phone is easy to connect to the USB port;
Equipped with integrated indicator lights;
Powerbank has an integrated safety system.


Promotional gift or Christmas gift
At TechPunt we can also customize this powerbank with your logo or slogan! This gives you a wonderful business gift In your hands, a powerbank of particularly high quality, which is always nice to give away.
If you are interested in this, please let us know at [email protected] or 0342-239999.
Order the Xiaomi 5000mAh 2 powerbank directly online! Ordered on weekdays before 20:00 = next working day in house.
Specifications
| | |
| --- | --- |
| mAh capacity: | 5000 mAh |
| Device charging time : | - |
| Power bank charging time: | 3.5 hours |
| QuickCharge Input: | No |
| QuickCharge Output: | No |
| Charge Through: | Yes |
| Low Current: | Yes |
| Power: | 5W |
| Maximum input: | 5V/2A |
| Maximum output: | 5V/2.1A |
| Number of input ports: | 1 micro USB |
| Number of output ports: | 1 USB-A |
| Product type: | Smartphone, tablet |
| Wireless charging: | No |
| Dimensions: | 12.5 x 6.9 x 1 cm |
| Weight: | 156 g |
| Colour: | Silver |
| Model number: | PLM10ZM |
| Package content: | Powerbank, micro USB cable, manual |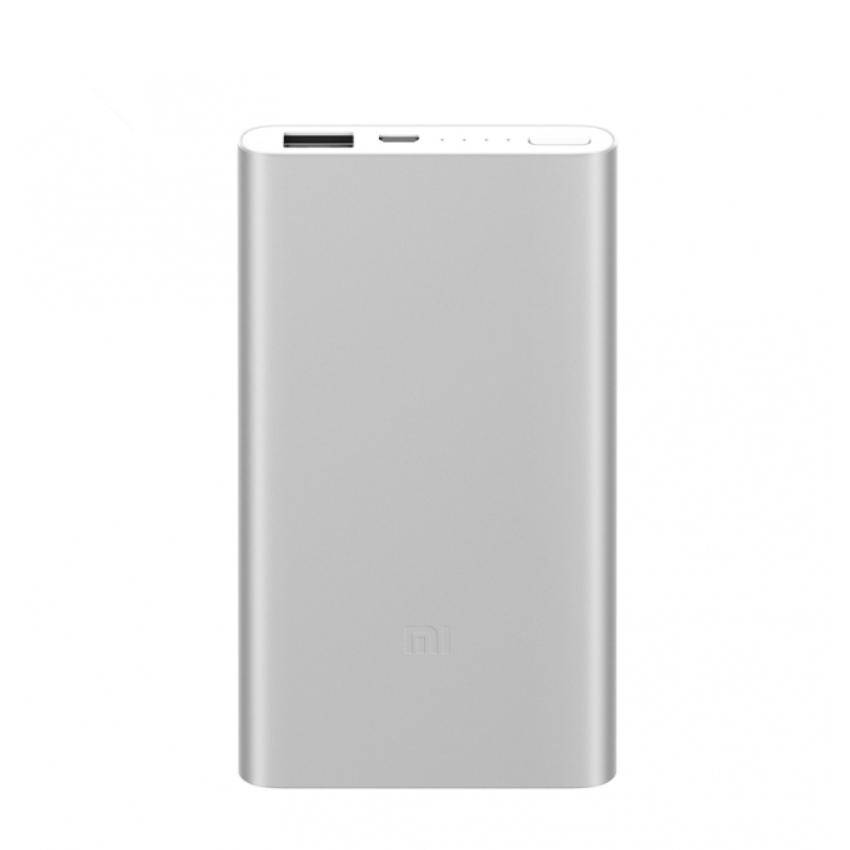 Supersnelle levering en een heel mooi artikel.
Fraaie powerbank (Xiaomi 5000mAh), professionele website en afhandeling.
Snel voor een goede prijs.