Xiaomi Redmi Powerbank 10000mah
Ordered before 20:00 -> Next day at home
Pick up at 3000+ PostNL pickup points.
Lowest price guarantee
Above 75 euros no shipping costs
2 years warranty
Personalized customer service
Information
Xiaomi Redmi Powerbank 10000mah
The Xiaomi Redmi Powerbank features ultimate charging convenience, thanks to its 10000mAh capacity and two charging ports. The powerbank itself can be charged via Type C and Micro USB ports. This handy powerbank is equipped with several practical features, such as dual input ports, dual output ports, 12-layer circuit protection, two-way fast charging, and lithium polymer batteries.
Thanks to the compact size of this powerbank of 15 by 7.3 by 1.5 centimeters, you can easily store the powerbank in your jacket or trouser pocket or take it with you in your bag or suitcase. You can also take this powerbank on the plane! The powerbank is very light with only 250 grams and is therefore very handy. 
Slim and stylish design
The Xiaomi Redmi Powerbank is made of durable and high quality material and has a non-slip coating making it comfortable to hold. With the 10W Quick Charge capability and output of 5.1V/2.4A, your devices will be fully charged again in no time. Thanks to the powerful 10000mAh large battery, you can fully charge the latest iPhone, for example, more than 2 times from scratch. The convenient low-power charging mode can be used to safely charge low-power devices such as fitness trackers and bluetooth headsets. Press the power/off/start button twice to activate the 2-hour energy-saving charging mode.
The Xiaomi Redmi powerbank is equipped with 12 layers of advanced chip protection that improves charging efficiency and is divided into categories, namely: temperature resistance, short-circuit protection, residual mechanism, chip with thermal shutdown protection, input overvoltage protection, misplacement protection, output overcurrent protection, electrostatic protection, output overvoltage protection, overload and over-discharge protection, output undervoltage protection and input undervoltage protection.
With 10 Watt Quick Charge, you can charge your devices nice and fast.
Crafted with advanced power management features and capacitive sensors
Available in black and white.
The power bank itself can be charged via Type C and Micro USB ports.
Light weight with its 31 grams!


Order the Xiaomi Redmi Powerbank 10000mah online immediately! Ordered on weekdays before 20:00 = next working day at home.
Specifications
| | |
| --- | --- |
| mAh capacity: | 10000 mAh |
| Device charging time : | - |
| Power bank charging time: | 7.5 hours |
| QuickCharge Input: | Yes, QuickCharge 3.0 |
| QuickCharge Output: | Yes, QuickCharge 3.0 |
| Charge Through: | Yes |
| Low Current: | - |
| Power: | 10W |
| Maximum input: | 5V/2.1A |
| Maximum output: | 5.1V/2.4A, 5.1V/2.6A |
| Number of input ports: | 1 micro USB, 1 USB-C |
| Number of output ports: | 2 USB-A |
| Product type: | Smartphone, tablet |
| Wireless charging: | No |
| Dimensions: | 15 x 7.3 x 1.5 cm |
| Weight: | 310 g |
| Colour: | Black, white |
| Model number: | PB100LZM |
| Package content: | Powerbank, micro USB cable, manual |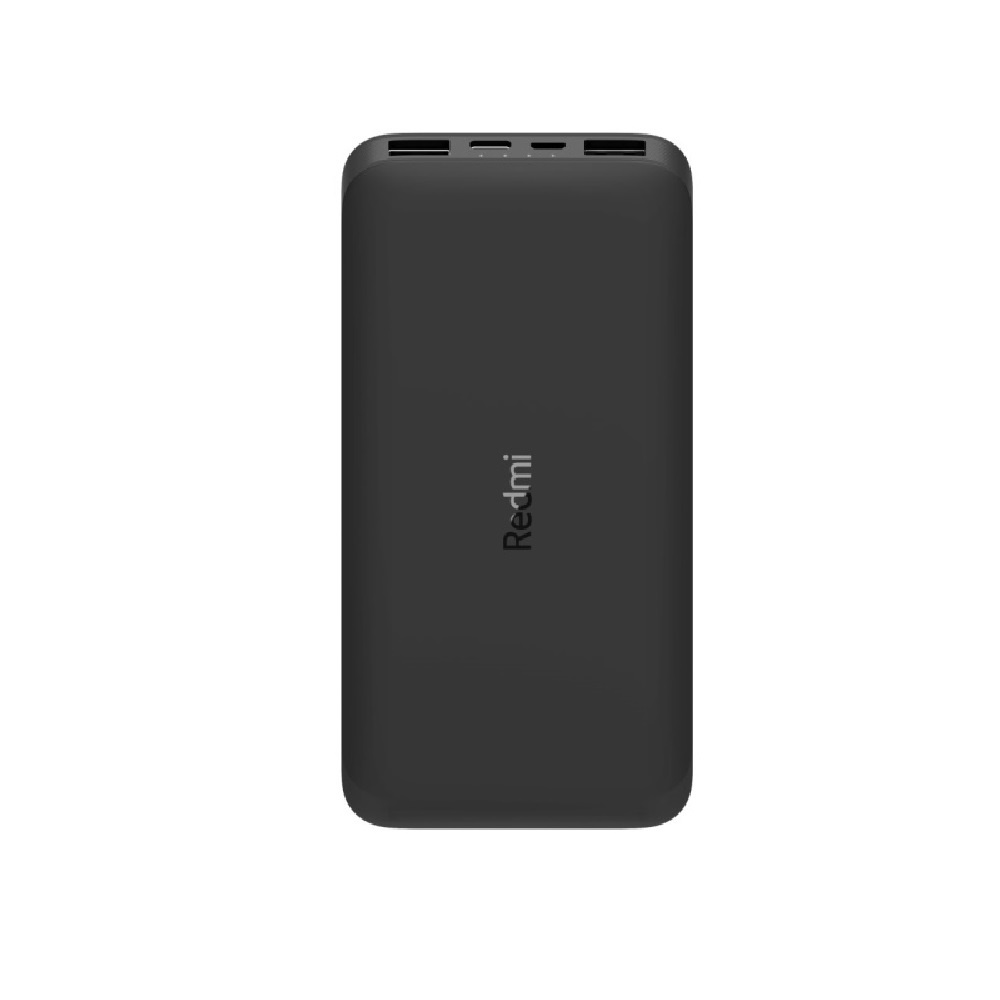 Schnell und qualitativ. Danke
Wolfgang Sommer
04 April 2022
Die Powerbank ist spitze. Kundenservice 1aaaa
Wäre kam schnell und gut verpackt bei mir an.
Bin sehr zufrieden und mein nächstes Xiaomi Produkt wird bei Euch bestellt