Xiaomi Mi Qicycle Folding Bike
Ordered before 20:00 -> Next day at home
Pick up at 3000+ PostNL pickup points.
Lowest price guarantee
Above 75 euros no shipping costs
2 years warranty
Personalized customer service
Information
Xiaomi Mi Qicycle Folding Bike
Fast and excellent power
The Xiaomi Qicycle Folding Bike is the ideal mode of transport for commuting to work, school or other appointments. The Xiaomi Qicycle Folding Bike features a powerful 250W brushless motor. This motor has a small magnetic resistance, smoother acceleration and lighter weight which makes this bike very agile and fast. It offers a continuous power of 180W and helps you accelerate up to a speed of 25km/h. The Xiaomi Qicycle Folding Bike is equipped with a 5800mAh lithium-ion battery with a battery management system (BMS).
With this battery capacity, it is possible to travel 45 km without recharging. Three modes are available. The Eco-mode offers up to 50% pedal support, maintaining the maximum range of 45 km. With the Normal mode the bike supports up to 100% of the delivered power and with the Boost mode the bike offers maximum support, perfect for a mountain climb for example. The battery is well protected against overcharging and short circuits, which guarantees safety. When the batteries eventually run out, you can just keep on riding thanks to the very high quality Shimano Gear Shifters. The 3 gears ensure that even cycling without support is effortless and comfortable.
Super practical
What makes the Xiaomi Qicycle Folding Bike so practical, is that it is easy to fold into a convenient transportable package of 100 by 45 by 67.5 centimetres (LxWxH). The bike weighs only 14.5 kg and can be taken anywhere. In the back of the trunk or in the train, the folded bike fits everywhere. The 16-inch wheels are equipped with sturdy brake calipers that guarantee your safety. This results in an extra short braking distance of 3 metres. The bike has built-in bright front and rear lights that guarantee your safety. There are also reflectors on the seat post and the wheels!
The bike has a 1.8 inch clear display. Thanks to the built-in onboard computer it is possible to gain insight into various statistics including the current speed, distance travelled and calories burned. Furthermore, it is possible to switch between four different power modes and synchronize all data with the cloud via the app. Through the advanced IDbike Torque Measurement Method (TMM), the bike can also measure how much force you put on the pedals. The Qicycle Folding Bike then adjusts its own power. This advanced system makes sure the support is perfectly adjusted to the user!
Equipped with a 250W brushless motor
Has a 5800mAh battery that allows you to travel 45 km on 1 charge
Can also be used with an empty battery thanks to the 3 gears
Easy to fold up and take with you
Always insight into your statistics thanks to the onboard computer and clear display


Order the Xiaomi Qicycle Folding Bike directly online! Ordered on weekdays before 20:00 = delivery the next working day.
Specifications
| | |
| --- | --- |
| Range: | 45 km |
| Maximum speed: | 25 km/u |
| Different modes: | Yes, 4 |
| Cruise control: | - |
| Engine power: | 250 Watt |
| Battery type: | 5800mAh |
| Climbing ability: | - |
| Charging time: | 4 hours |
| Braking distance: | 3 m |
| Release date: | 10 August 2020 |
| Display: | Yes |
| App: | Xiaomi Mi Home App |
| Weight: | 14 kg |
| Foldable: | Yes |
| Dimensions folded: | 67.5 x 45.0 x 100.0 cm |
| Dimensions unfolded: | 129.0 x 54.0 x 101.0 cm |
| Colour: | Black |
| Waterproofing: | Yes, IPX5 |
| Handlebar height: | Adjustable |
| Maximum load weight : | 100 kg |
| Brakes: | Caliper brake front, roller brake rear |
| Tyres: | 16 inch pneumatic tyres |
| Package contents: | Electric bicycle, Battery, Charger, Manual |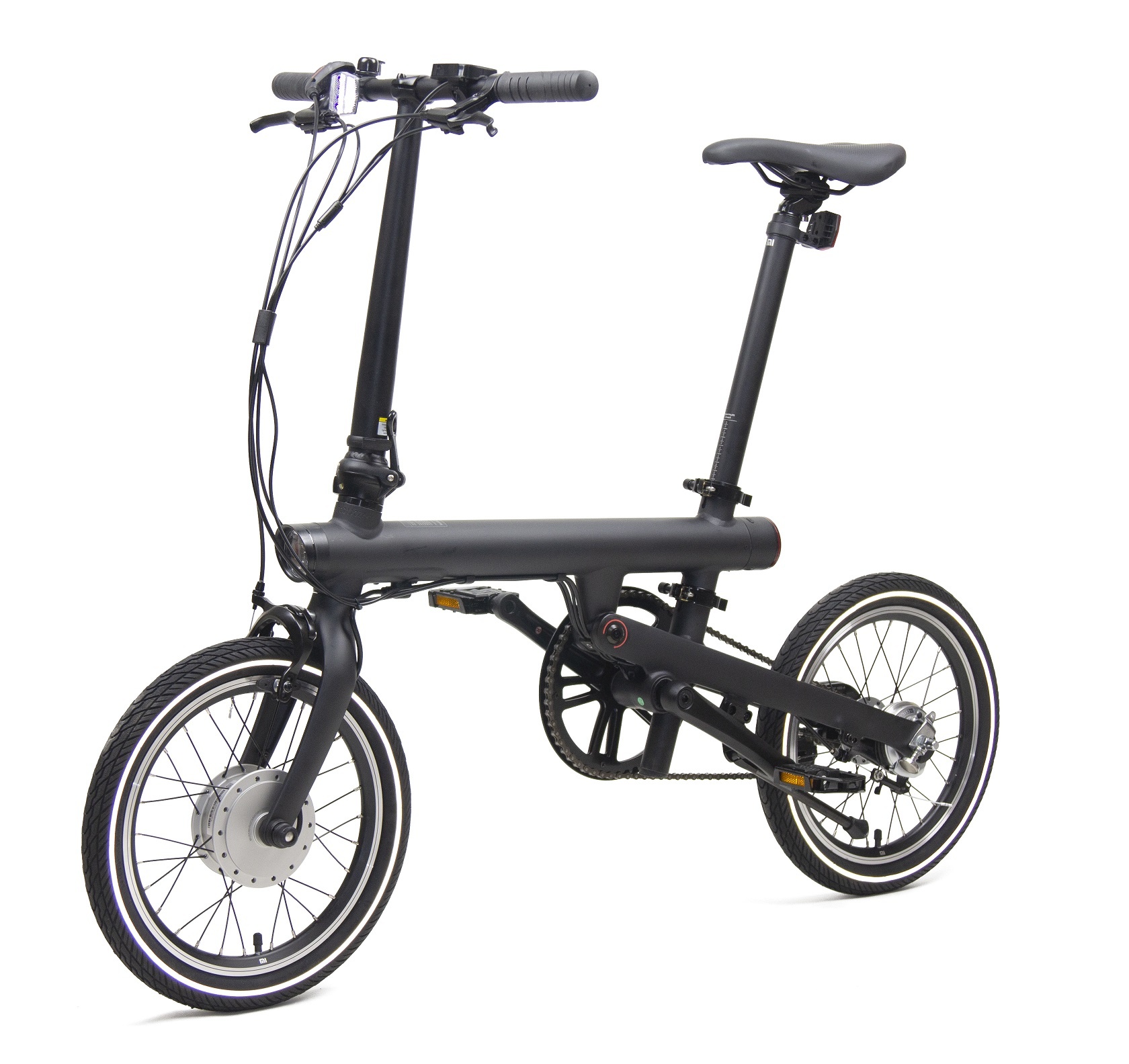 snelle levering, duidelijke communicatie, goede prijs.
Fiets snel en correct geleverd.
Mark P. van S.
25 September 2021
Kwalitatief zeer goede fiets, rijdt stabiel, niks rammelt, niks is slecht afgewerkt, met name de TIG-Lassen, zien er geweldig goed uit: Vakwerk! De fiets is eenvoudig met een handel en een inbus-sleutel goed klein te vouwen, accu mooi weggewerkt, en is niet te stelen. Er is echter één nadeel: Het mist ruimte voor de bevestiging van spatborden, dus niet fietsen in regenweer, want je rug komt er onder te zitten.
Iwan van Leijden
16 July 2021
Om weer wat meer naar buiten te gaan zocht ik een leuk alternatief om weer eens wat meer op pad te gaan. Daar ik graag fotografeer is het handig dit fietsje achterin te zetten en ergens heen te rijden. De fiets fietst heerlijk, je hebt er ook absoluut geen onveilig gevoel op, de trapondersteuning werkt erg fijn daar er een TMM koppel sensor op zit waardoor het trappen met trapondersteuning ook natuurlijk voelt. De remmen zijn in tegenstelling tot de review van Bright gewoon goed, daarnaast moet je vind ik niet met 25km/h over een rotonde vliegen. Inmiddels na 3 weken al 160KM gefietst, al met al een heel fijne fiets en een absolute aanrader als je kwalitatief goede en goedkope elektrische fiets zoekt!
Degelijke fiets goed afgewerkt en je fietst er heerlijk op