Ordered before 20:00 -> Next day at home
Pick up at 3000+ PostNL pickup points.
Lowest price guarantee
Above 75 euros no shipping costs
2 years warranty
Personalized customer service
Information
Xiaomi Roidmi 3S
The new Roidmi 3S from Xiaomi is the newest Roidmi with even more possibilities! The Roidmi 3S can of course play music again via Bluetooth and is also a car charger. Unlike the 2S, the Roidmi 3S can be used in any car.

The Bluetooth and FM Transmitter function allows you to effortlessly play music from your phone on your old car radio. No need for a new car radio, aux cable or other cables. The Roidmi 3S transmits an FM signal, which the car radio picks up by setting it to the right FM frequency. By connecting your phone to the Roidmi 3S using Bluetooth, you can listen to Spotify, Youtube or Deezer to your heart's content via your radio. The Roidmi 3S can be used with Android and iOS devices.
Simultaneous car charger
The Roidmi 3S is also equipped with two powerful USB ports with an output of 2.4A. This allows you to play music and charge your mobile phone at the same time, but also allows a second person to charge his or her mobile phone at the same time!
All you have to do to enjoy all these benefits is plug the Roidmi 3S into your car's cigarette lighter. Because the device is small in size, it won't get in the way when you're driving. Because of its elegant appearance and design it fits with every dashboard in every car!

In addition, the Roidmi 3S offers protection against overvoltage and short circuiting. When the voltage gets too high, the device will switch itself off and send out an alarming message!
Order the Xiaomi Roidmi 3S directly online! Ordered on weekdays before 20:00 = delivery the next working day.
Specifications
| | |
| --- | --- |
| Wireless : | Yes |
| Outputs: | 2 x USB-A |
| Compatible with: | Android and iOS |
| Type of device : | Telephone |
| QuickCharge: | Yes |
| Charging speed: | - |
| Maximum input: | 12-24V |
| Maximum output: | 5V/2.4A, 5V/3.4A |
| Power: | 20W |
| Weight: | 32 g |
| Dimensions: | 65 x 26 x 26 mm |
| Colour: | Black |
| Model number: | 1A081OVB |
| Package content: | Roidmi 3S, manual |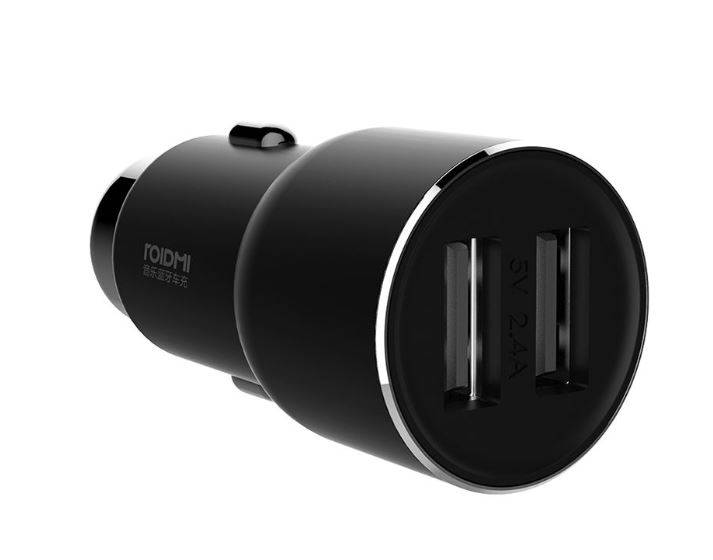 Op zaterdag een auto gekocht, maar helaas een oude radio. Dus op maandag hier een fm Bluetooth adapter met USB aansluiting besteld en dinsdag al in huis! Werkt perfect! Binnen een minuut ingesteld, en nu kan ik Spotify streamen!
Het product is echt topp! Ik zocht al lang naar dit product al een paar keer vergelijkbare producten geprobeerd zelfs 1tje van 40 euro maar die deden het allemaal niet goed. Ik sluitte deze aan in mijn auto en hij doet het perfect echt een top product!!
Really good product!!! Easy shopping, quick delivery, everything good
Product werkt naar verwachting en is gemakkelijk te installeren én gebruiken. Voor de prijs hoef je het niet te laten overigens :')
Het is gemakkelijk te installeren.
Maarten de Beurs
17 August 2020
Doet het uitstekend, en wat ik nergens in de handleiding kon vinden, het is nog stereo ook.
Tip: om storingen van buitenaf tegen te gaan schuif de autoantenne in.
Product doet precies wat er wordt beloofd.
Yke Boschma
27 March 2020
top fijn / handig ding om te hebben
Fm zender de volgende dag geleverd en werkt perfect!
Gebruiksvriendelijk, geweldig geluid gewoon echt een goed ding!
Prettig en professioneel contact en goede apparatuur
Artikel was goed verpakt, precies wat ik verwachte
De Xiaomi roidme 3S is gemakkelijk aan te sluiten en doet wat het moet doen.
Prima aankoop simpel te installeren en werkt goed .
Snelle levering. Goede prijs
Ik ben heel tevreden
Eenvoudig in gebruik, maakt goede verbinding met de autoradio
Ik heb een apparaatje gekocht om mijn autoradio te verbinden met mijn telefoon, werkt top!

(Mijn beoordeling is gebaseerd op het kopen van één aankoop bij dit bedrijf.)
C van Dinther
30 August 2019
Bluetooth FM transmitter. Super apparaat. Precies wat ik nodig had. Ziet er uit als een dubbele lader ( is het ook ) met wat extra functionaliteit. Aanrader. Als ik iets negatiefs moet noemen, is het dat er geen info via RDS binnenkomt. Verder uitstekend product.
Paketje was goed aangekomen, eenvoudig te installeren met de bijbehorende app en werkt goed.
Dit is mijn tweede Xiaomi product en ik ben steeds blij met hun kwaliteit! (Eerste plaats is een action camera.)
Snel geleverd en doet waar hij voor bedoeld is. Wij streven er muziek mee via de telefoon op de autoradio die geen bluetooth had.
Makkelijk te installeren.

Af en toe beetje ruis.
Wat een topproduct de Roidmi 2S! Ook topservice van de Customer Service. Niet allen snel en persoonlijk, ze weten ook nog eens waar ze het over hebben. Installatie was een fluitje van een cent en de kwaliteit van de audio is kraakhelder en zonder enige storing. Whooo!
5 sterren, gekocht op basis van goede reviews van anderen en het ingetogen uiterlijk. Positief, heel positief over de geluidskwalieit, er is wel iets ruis maar minder dan een tape met dolby b. Prachtig stereo geluid. Zeer goede prijs kwaliteit verhouding.
Werkt top en heel makkelijk en klein
Heb de xiaomi roidmi 3s besteld ziet er super netjes uit en werkt tot nu toe zoals het hoort te werken.
Edo Voorburg
09 January 2019
Snelle afhandeling van de bestelling, degelijk product.
Prima product! Inpluggen, smartphone verbinden met bluetooth, je radio afstemmen met de juiste zender en het werkt! Geen ruis of andere problemen!