Xiaomi 70Mai M300 Dashcam
Ordered before 20:00 -> Next day at home
Pick up at 3000+ PostNL pickup points.
Lowest price guarantee
Above 75 euros no shipping costs
2 years warranty
Personalized customer service
Information
Xiaomi 70mai M300 Dashcam
The Xiaomi 70mai M300 dashcam is the improved successor to the sales topper Xiaomi 70Mai 1S Dashcam, with a 1.5 times greater image resolution as the main difference. With this handy dashboard camera from Xiaomi, you'll be able to film and store the most important events.
The Xiaomi 70mai M300 has a 3 megapixel camera with F2.1 Aperture and is filming at a whopping 2304x1296presolution. The camera has a field of view of 140º, so nothing escapes the camera. So you can even film all the traffic on a wide three-lane road! Thanks to the G-Sensor, the camera is able to detect vibrations and movements. In the event of a collision or other abnormal events, the camera will automatically start recording.
This dashcam uses various techniques to optimize image quality in all conditions. Among other things, the camera uses 3D Noise Reduction. This feature removes unnecessary pixels and balances the exposure balance. Especially if you want to record in the dark, this is nice. The WDR technology that is processed in the camera also contributes to the fact that you can count on good images with this camera when it is dark.
User-friendly features
The Xiaomi 70mai M300 is known for its quality. For example, the dashcam's Timelapse mode allows it to continue recording at one frame per second while the car is parked. As soon as movements are detected by the G-sensor, the camera starts recording in the so-called Emergency Mode. The parking mode does require the optional 70mai UP02 Hardwire Kit. 
The Xiaomi 70mai M300 is easy to install with the included accessories. You can also access the dashcam from your smartphone by downloading the Xiaomi 70mai app to your phone. Here you can adjust settings and view the images and share them directly. The footage that the Xiaomi 70mai M300 dashcam produces, you can also easily look back in other ways. The dashcam supports micro SD cards up to 128GB in size, so you can record for hours! If the sd-card is full, the M300 automatically rewrites the oldest images. So you'll never be stuck with a storage problem.
A resolution of 2304x1296p with a 140º field of view
Detects movement and vibrations with UP02 Hardwire Kit
WDR technology and Noise Reduction technology
Better image quality than 1080p Full HD
240mAh battery for extra long operation
Connection with WiFi possible


Order the Xiaomi 70mai M300 Dashcam directly online! Ordered on weekdays before 20:00 = delivery the next working day.
Specifications
| | |
| --- | --- |
| Video resolution: | 2304 x 1296 |
| Frame rate: | 30 fps |
| Sensor: | Mstar SC3335 |
| Chipset: | SSC333DE |
| Lens: | F2.1 |
| Front and back image: | Front only |
| Field of View: | 140º |
| Screen size: | n/a |
| Touchscreen: | No |
| Battery duration: | n/a |
| Type of SD card: | Micro SD up to 128GB |
| Built-in GPS: | No |
| WiFi: | Yes |
| Bluetooth: | No |
| Control via App: | Yes |
| Microphone: | No |
| Loop recording: | Yes |
| Parking mode: | Yes |
| Night Vision: | Yes |
| ADAS: | No |
| Lane support: | Yes |
| G-sensor: | Yes |
| Foto/video-formaten: | MP4 |
| Mounting method: | Sticker |
| Possible additional accessories: | Hardwire kit and micro SD card |
| Port type: | Micro USB |
| Languages: | EN/JP/RU/KR/SP/PT/PL/CT/TH |
| Weight: | 222 g |
| Dimensions: | 91 x 31.5 x 52 mm |
| Model number: | M300 |
| Package content: | Dashcam, mount, power cable, adapter, electrostatic sticker, adhesive sticker, crowbar and manual |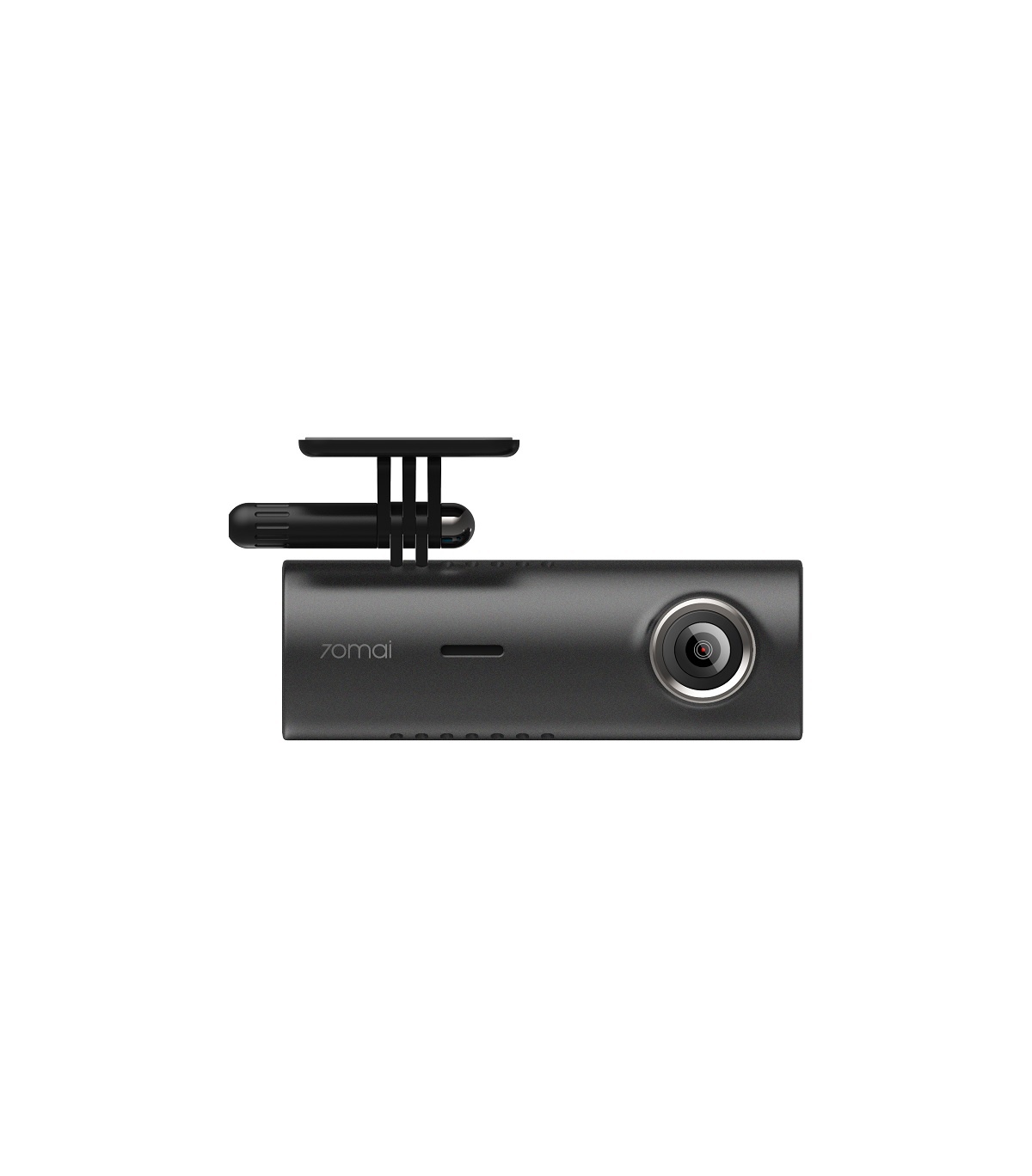 Tweemaal 70mai Dash Cam M300 besteld, snelle levering, uitgepakt en geïnstalleerd, fluitje van een cent. Beide Dashcams op 1 app keurig apart te regelen.
I buy a camera and arrived vet quickly and everything work
Goede producten, duidelijke uitleg! En snelle levering.
Giovanni Cossu
16 September 2022
Eerste aankopen Xiomi70 dashcam ,alles ging goed . Dashcam hangt in de auto. Prima.
Zoals zojuist omschreven. Alles duidelijk en geen onduidelijkheden.
Pascal Etienne
23 July 2022
Topper voor de beginneling en er moet nog wel een SD kaartje bij met min klasse 10. Voor de rest qwa installatie is het super simpel! De service is ook snel en goed! Top product!
La dashcam fonctionne bien.
Product zoals beschreven! voldoet volledig.
Regelmatige updates over leveringsstatus. Zeer positief.
Hij is handig,makellijk monteren
Stephane
24 February 2022
"Très bon produit et fonctionne parfaitement bien.
Dommage qu'on ne puisse pas éteindre la voix á  l'allumage et quand on l'éteint."
Jean-Max
24 February 2022
Good quality of video, easy to install
Product werkt snel, goede uitleg op internet site.
Het werkt zoals beschreven
Slawomir Jozwicki
04 February 2022
Tolle Kamera, super Bild zum vernünftigen Preis. Einziger Nachteil: zu wenig Sprachen zur Verfügung, kein Deutsch. Aber... Hauptsache Englisch dabei:)
70mai-App aus dem Google Play ist schnell installiert und eingerichtet. Die App läuft auf deutsch. Ton-Aufnahme on Bord, kein GPS (braucht eh kein Mensch:) )
Ich kann nur Empfehlen.
Eerste keer bij deze firma iets besteld.
Een xiaomi dashcam.
Duidelijke foto's en beschrijving van het product.
Het bestellen, afrekenen en verzenden ging vlot en snel.