Xiaomi 70mai A800S 4k Dashcam
Ordered before 20:00 -> Next day at home
Pick up at 3000+ PostNL pickup points.
Lowest price guarantee
Above 75 euros no shipping costs
2 years warranty
Personalized customer service
Information
Xiaomi 70mai A800S 4k Dashcam
Defines the whole road situation
The Xiaomi 70mai Dashcam A800S is a reliable dashcam that significantly increases your safety while driving. The dashcam records razor-sharp images with stunning 4K resolution thanks to the Sony IMX415 CMOS sensor. The first 4k dashcam from 70Mai is a fact! Thanks to the wide-angle lens of 140°, there are hardly any blind spots and the entire road situation is accurately captured.
Thanks to the aperture of f/1.8 in combination with advanced Dynamic Noise Reduction 3D technology, the images are incredibly sharp and always clear. Even in the dark, the dashcam still delivers clear images, which makes the device work perfectly at night. The lens has excellent performance with low light, so you get razor-sharp images at any time of the day!
The Xiaomi 70mai Dashcam A800S comes optionally in a set with the RC06 rear view camera. This camera is very practical when reversing such as when parking, but also when driving on the road in general. Everything that happens behind you on the road is captured! The images from the rear view camera are immediately played on the beautiful 3 inch HD display so you are always aware of what is happening behind the car.
Provides additional security
Thanks to the ADAS (Advanced Driving Assistant System) and LDW (Lane Departure Warning) integration, your safety is guaranteed. The Lane-departure Warning System will alert you when the car starts drifting from your own lane by monitoring lane marks on the road. The device also warns you when the car starts to skid and calculates the distance to the car in front. The system automatically gives a warning when the situation is dangerous. In addition, the dashcam has a GPS module, so that all data such as speed and location are immediately stored and can be viewed later in the app. With the app, the images can also be shared directly, for example via Whatsapp or Instagram.
In case of a collision while the car is parked, the Xiaomi 70mai Dashcam A800S will automatically start recording to save the evidence. All captured images are stored on a micro SD card up to 128GB. Old recordings are automatically overwritten when the card is full. Enable this full parking mode with the Hardwire Kit UP02 (combo deal available at bottom of page). 
4K image quality thanks to the first-class Sony sensor
Barely blind corners thanks to the 140° wide-angle lens
Also clear and sharp image at night because of the f/1.8 zoom
Can also be used as a rear view camera
ADAS (Advanced Driving Assistant System) and LDW (Lane Departure Warning)
Storage on a micro SD card up to 128GB


Order the Xiaomi 70mai Dashcam A800S directly online! Ordered on workdays before 20:00 = the next workday in house.
Specifications
| | |
| --- | --- |
| Video resolution: | 3840×2160 |
| Frame rate: | 30 fps |
| Sensor: | Sony IMX415 CMOS-sensor |
| Chipset: | SONY IMX415 with Sigmastar SSC8629G processor |
| Lens: | 7G/F1.8 |
| Front and back image: | Front, optional front and rear |
| Field of View: | 105 - 140 degrees |
| Screen size: | 3 inch |
| Touchscreen: | No |
| Battery duration: | n/a |
| Type of SD card: | Micro SD up to 128GB |
| Built-in GPS: | Yes |
| WiFi: | Yes |
| Bluetooth: | No |
| Control via App: | Yes |
| Microphone: | Yes |
| Loop recording: | Yes |
| Parking mode: | Yes |
| Night Vision: | Yes |
| ADAS: | Yes |
| Lane support: | Yes |
| G-sensor: | Yes |
| Foto/video-formaten: | MP4 |
| Mounting method: | Sticker |
| Possible additional accessories: | Rear camera, hardwire kit and micro SD card |
| Port type: | USB-A |
| Languages: | EN/RU/KR/JP/SP/PT/TC |
| Weight: | 590 g |
| Dimensions: | 82 × 58.2 × 40.5 mm |
| Model number: | 229617 |
| Package content: | Dashcam, mount, power cable, adapter, 2x electrostatic sticker, 2x adhesive sticker, crowbar and manual |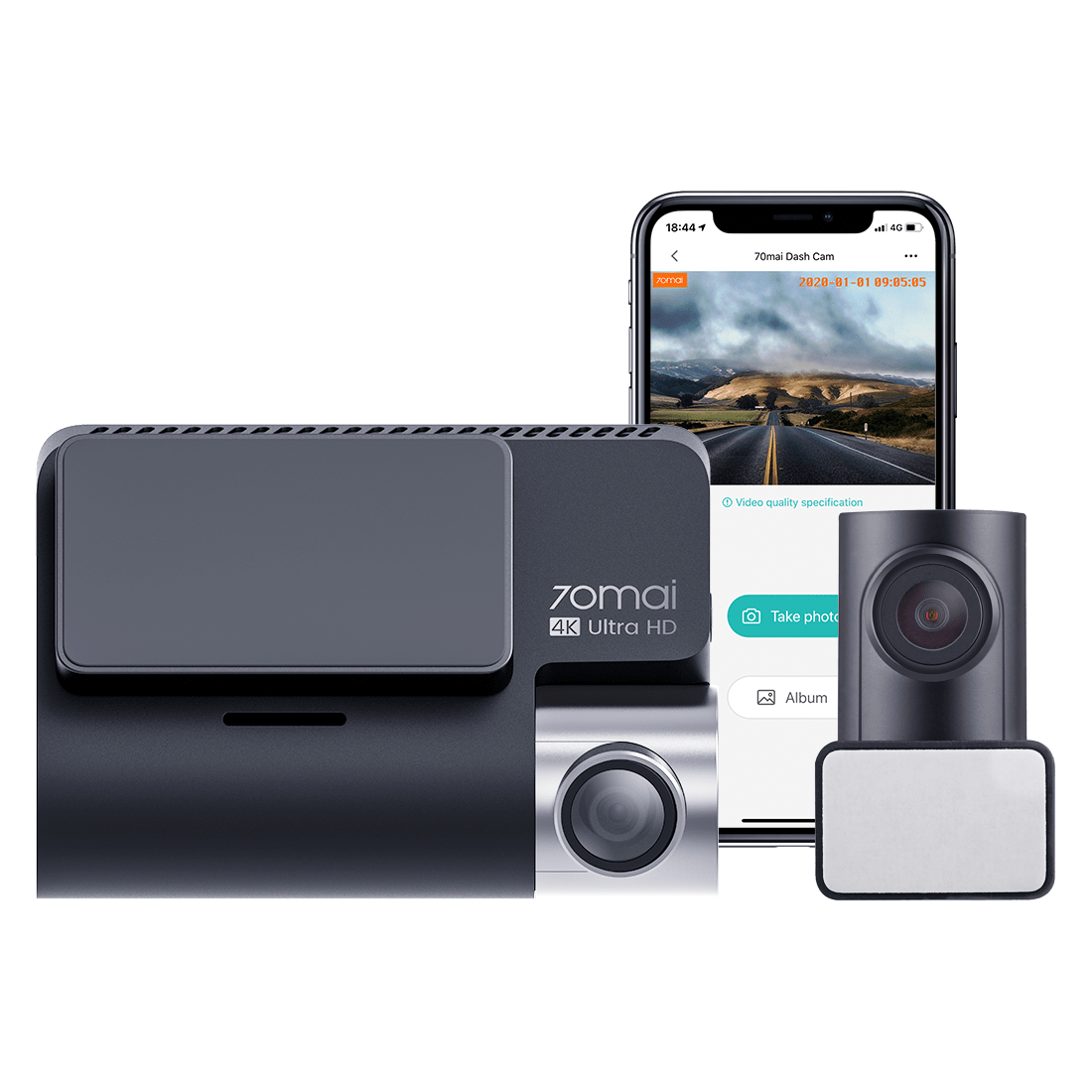 Xiaomi 70mai A800S 4k Dashcam besteld voor de laagste prijs.
Zeer snelle levering met PostNL.
Moraru-Dima
08 November 2022
Very happy with the product
Duidelijk omschrijving en mijn ervaring ze zijn de goedkoopste op de internet.
Par rapport à d'autres acteurs, le prix proposé est intéressant. Le site Internet est multi lingue, avec, pour une fois, une traduction lisible !
La commande est simple à faire et la livraison rapide.
Bref, à recommander.
Xiaomi 70mai A800S 4k Dashcam gekocht, %100 tevreden, volgende huis netjes geleverd. Super camera en goede prijs. Zeker een aanrader...
Goeie info op de webside en vlotte levering na bestelling.
We hebben de dashcam met achter camera gekocht, de verzending ging erg snel! Volgende dag was het in huis.

De dashcam zelf geeft zeer goed beeld, de 4K zorgt er voor dat je kentekens makkelijk kunt lezen ook op de snelweg.
Had dashcam besteld deze was goed verpakt en 2 dagen later al in huis. Werkt zoals het moet.
Good product with good price-quality ratio.
Daniel Malinowski
21 February 2022
I have been using it since entering the market. sensational camera. great picture quality. you only need to buy a power supply for parking mode separately
Das kann ja garnicht sein - so viele tolle Rezessionen !
Hatte mir im Juli 2021 die Xiaomi 70mai A800S 4k Dashcam gekauft und bin heute (08.01.2022) immer noch voll zu frieden¸, danke an das Team XiaomiProducts
Produit conforme. Prix qualité très satisfaisant. Rapidité d'expédition (48h).emballage propres sans coup.
Pas besoins sav.
Je suis très satisfait de cet achat sur le site web de Xiaomi ! Achat d'une Dashcam 70mai A800S avec caméra arrière + le Hardwire. Le suivi-colis est opérationnel et le colis est arrivé rapidement et en bon état. L'installation est très simple et la connexion wifi également. Seul petit défaut pour moi, le menu de la caméra et celui de l'application Smartphone ne sont pas disponible en français.
I was looking for a good, affordable dashcam. I love the good quality of Xiaomi products.I was surprised by this 70mai A800s with its GPS and 4k Video (footage on Youtube) and the rear cam. The video footage is very good and stabil. Menu is very easy. Only German language is not available. But that's not a big deal. Let's see what the next month will bring. I live in Germany and this item was send from the Netherlands so fast and without any damage. Perfect. Thank you.
Je voulais acheter un produit et je voulais plus de renseignements un vendeur m'a renseigné ( Pim van Lunsen) je pense qu'il s'appelle comme ça et a était la pour moi du début à la fin... chose très rare sur internet et m'a éclairci sur mes choix au top je recommande n'hésitez pas et la livraison en 72h donc génial pour un produit de Hollande la livraison reste franchement raisonnable si on compare avec la France ce sont les même prix tellement satisfait que j'ai recommandé chez eux je ne laisse pas beaucoup d'avis mais quand je suis satisfait je voulais l'écrire.
Bonne continuation à toute l'équipe.
Product netjes ingepakt ontvangen
Isam sirriyeh
28 January 2021
Xiaomi 70mai A800 4k Dashcam besteld. Snel geleverd en goede prijs/kwaliteit.
Isam Sirriyeh
19 December 2020
Xiaomi 70mai A800 4k Dashcam besteld. Snel geleverd en goede prijs/kwaliteit.