Ordered before 20:00 -> Next day at home
Pick up at 3000+ PostNL pickup points.
Lowest price guarantee
Above 75 euros no shipping costs
2 years warranty
Personalized customer service
Information
Xiaomi 70mai Dash cam Pro
The Xiaomi 70mai Dash Cam Pro is one of the most versatile dash cams available!
Capture all moments on the road
Thanks to its wide lens of 140 degrees, the Xiaomi 70mai Dash Cam Pro captures everything that happens in front of the car. The dash cam uses a Sony IMX335 sensor that provides sharp videos with impressive details. The 5MP F/1.8 camera provides an amazing video quality of no less than 1944p. Thanks to this super High definition recording, the Xiaomi 70mai Dash Cam Pro allows you to clearly see license plates of cars driving in front of you and even recognize people. The camera also supports WDR (Wide Dynamic Range) to record clear videos in both low and high light conditions. The dash cam delivers clear images in all weather conditions. Even with fog and snow, the Xiaomi 70mai Dash Cam Pro delivers clear recordings.
Thanks to the smart technology of loop-record, the camera overwrites old recordings when the memory card is full. The Xiaomi 70mai Dash Cam Pro can handle all conditions. The dash cam just keeps working in temperatures between -10 °C to 60 °C. The dash cam can handle a hot summer day just fine!
The best security for your car
With 24 hour recording, the 70mai Pro works like a non-stop security system for your car. The Xiaomi 70mai Dash Cam Pro is equipped with Parking Surveillance which ensures that the recording is automatically started when a collision with your vehicle in the parking lot is detected. The dash cam will also automatically record an emergency situation when a collision is detected. These videos will be stored in a separate folder that will not be erased in the loop record.
Thanks to the practical and safe voice control you can always keep your hands on the wheel while operating the dash cam. The 500 mAh battery ensures that the Xiaomi 70mai Dash Cam Pro can make emergency recordings when the Dash Cam is not connected to power.
Using the WiFi function, the Xiaomi 70mai Dash Cam Pro is easy to control using the App. This allows you to look back at all the images on your phone. The practical App is available for Android and IOS.
GPS module
The GPS module is automatically included, which allows you to see the current speed and coordinates on your screen. With the GPS module you also get the possibility of ADAS. With ADAS, the dashcam will warn you if you accidentally try to change lanes (LDWS). Also you get a warning if you are too close to other cars (FCWS).
Wide 140-degree lens
Fantastic video quality of up to 1944p that makes all the details visible
The convenient features make the dash cam a very reliable security
Easy to operate with the practical App


Order the 70mai Dash Cam Pro directly online! On weekdays before 20:00 ordered = next day in house.
Specifications
| | |
| --- | --- |
| Video resolution: | 2592 x 1944 |
| Frame rate: | 30 fps |
| Sensor: | Sony IMX335 |
| Chipset: | Hi3556 V200 |
| Lens: | 2G4P/F1.8 |
| Front and back image: | Front, optional front and rear |
| Field of View: | 140° |
| Screen size: | 2.0 inch |
| Touchscreen: | No |
| Battery duration: | n/a |
| Type of SD card: | Micro SD up to 128GB |
| Built-in GPS: | Yes |
| WiFi: | Yes |
| Bluetooth: | No |
| Control via App: | Yes |
| Microphone: | Yes |
| Loop recording: | Yes |
| Parking mode: | Yes |
| Night Vision: | Yes |
| ADAS: | Yes |
| Lane support: | Yes |
| G-sensor: | Yes |
| Foto/video-formaten: | MP4 |
| Mounting method: | Sticker |
| Possible additional accessories: | Rear camera, hardwire kit and micro SD card |
| Port type: | Micro USB |
| Languages: | EN/RU/KR/JP/SP/PT/TC/PL |
| Weight: | 133 g |
| Dimensions: | 87.5 x 53 x 18 mm |
| Model number: | A500S |
| Package content: | Dashcam, mount, power cable, adapter, electrostatic sticker, self-adhesive sticker and manual |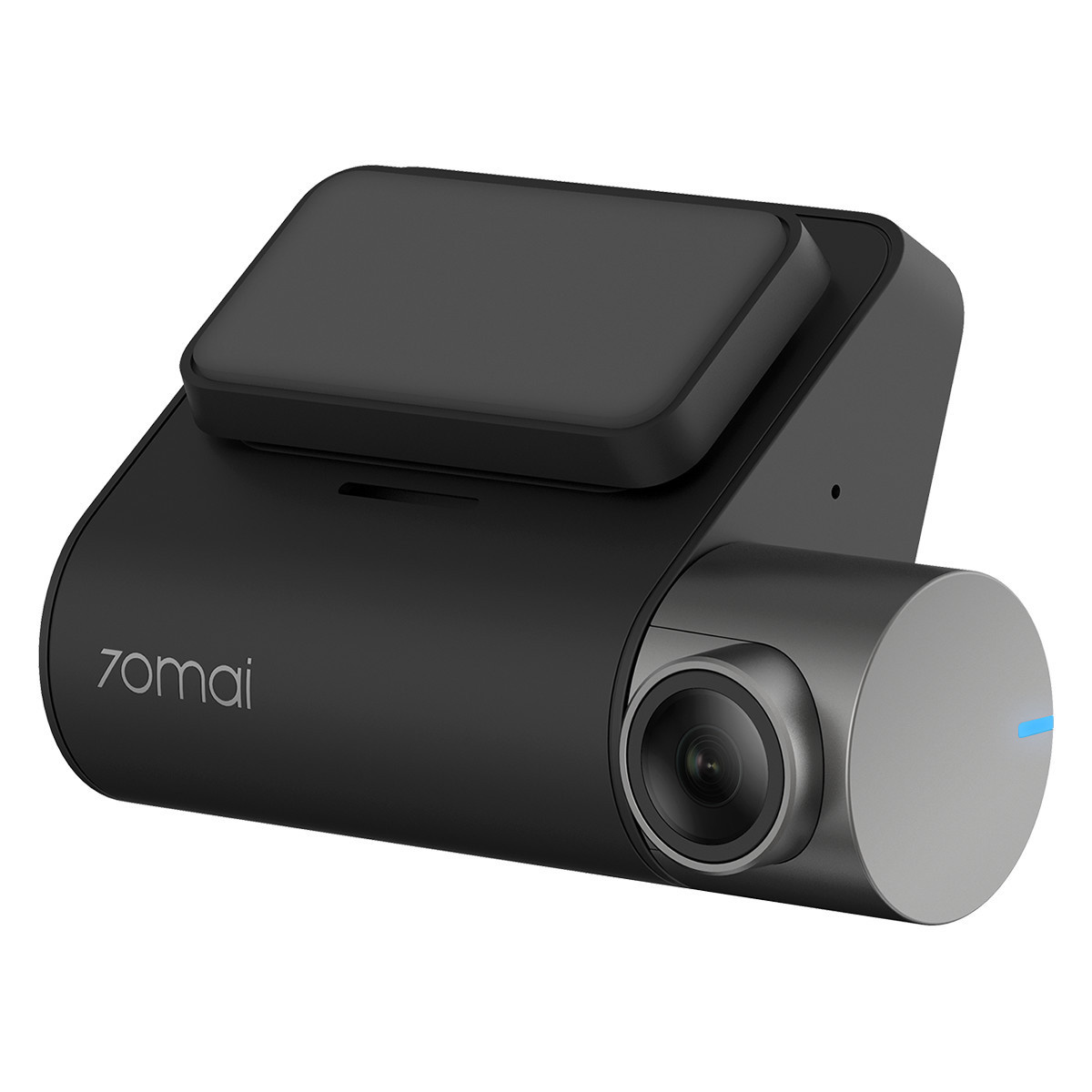 Super scherp beeld en loopt vloeiend, ga ook een rear cam bestellen.
Wat mij opviel was de uitvoerige beschrijving van het product 70Mai daschcam Pro op de aanbiedingssite. De daschcam besteld was ie er ook de volgende dag.
Product zoals beschreven.
Na veel dashcams bekeken te hebben toch maar gegaan voor de 70mai pro. Installatie in de auto is simpel evenals de bediening van de cam. Beeld is perfect en makkelijk via wifi op je gsm te zetten. De cam heb ik voorzien van een 128 gb 10 class en daar heeft hij geen probleem mee.
Gemakkelijk te installeren.
Dit is de 2de dashcam die ik hier heb gekocht!
Ook met deze weer er blij!
Goede kwaliteit en snel en netjes geleverd!
Goede technische ondersteuning.
Perfect
Conforme à la description et rapidité de livraison
De dashcam is voldoet aan mijn verwachting. Zeer goede beelden overdag en nacht. Zeer goede service xiaomiproducts had probleem met koppelen was zeer snel geholpen.
alles funktioniert so wie es soll. die befestigung auf der windschutzscheibe ist einzigartig. die übermittlung auf das handy funktioniert einwandfrei.
wünschenswert wäre eine deutsche anleitung
Beeld is goed. Ook de opname hoek van 140 graden is prefect. En je kan het geluid binnen uitzetten. Ik ben er blij mee.
Hele fijne dashcam, erg verrast door de kwaliteit. Dubbele bevestigings stickers dus ook eventueel te verwijderen en te installeren in een nieuwe auto. Kwalitatief zeer goed, eenvoudig te installeren. Zowel montage in auto als het instellen van de cam. Ik zou dit product aanbevelen.
Goede producten voor een goede prijs
Een super goede dashcam met een gemakkelijke bediening

Een aanrader!
De perfecte boardcam voor in de auto. Duidelijke foto's.
Echt helemaal top! Veel beter dan bijv Nextbase. Super makkelijk geïnstalleerd en heel makkelijk in gebruik. Echt een aanrader voor een super lage prijs!
De dashcam ziet er perfect uit.
Gemakkelijk te installeren

Het bestellen ging zeer vlot evenals de levering, zelfs in deze drukke dagen
What you see is what you get
De bestelde 70Mai pro Dashcam met GPS module is heel snel geleverd. De Dashcam en GPS module in een testopstelling gecontroleerd. Werkt uitstekend beeld is helder en scherp. Ben afwachtende van een nieuwe auto dus een vervolg plaats ik op Facebook. Maar vooralsnog Top, een aanrader.
Heb de dashcam nu een paar dagen in gebruik, hij was trouwens snel geleverd en het lijkt me een heel degelijk apparaat voor weinig geld .. heb er nu overdag en s'avonds mee gereden en de beelden (die makkelijk via de app terug te kijken zijn ) zijn echt van super kwaliteit! -Keuze voor audio opname , -Gemakkelijk beelden terug te kijken via de app - mooi vorm gegeven -uitstekende prijs kwaliteit verhouding - wel een klein schermpje, maar dat stoort niet , meer dan de instellingen goed zetten en de WiFi aanzetten doe je er ook niet mee .
Aad de Jongh
20 August 2020
De Xiaomi 70 PRO Dash Cam voor de auto ziet er zeer mooi uit en is zeer gebruiksvriendelijk ondanks dat het menu in het Engels is. Hij is makkelijk te bedienen en maakt zeer mooie opnames, De foto's zijn zeer helder en de video's zijn ook van goede kwaliteit. Een zeer goed apparaat voor een nette prijs en een aanrader in de test door de ANWB.
Xiaomi 70mai pro dashcam besteld. Snel geleverd en goede prijs/kwaliteit.
Leuke dashcam geleverd voor een aantrekkelijke prijs
Goede dashcam, eenvoudige bediening khad ook al Xiaomi telefoon
Dashcam besteld. Goed prijs goed product.
Product is top, alles werkt perfect ;)
Levering van het bestelde product zoals aangegeven/ Prima kwaliteit en werk zoals omschreven op de website. Prima
Helaas was er veel vraag naar het product na een goede recensie bij de ANWB waardoor de voorraad niet toereikend was en moest wachten op de nieuwe voorraad.
Prima dashcam tegen zeer acceptabele prijs
Mooie dashcam en makkelijk te installeren
Ik ben zeker tevreden met de Dashcam, absoluut. Uitstekend
Mooi en goed product. Installatie is eenvoudig. Waar je soms leest dat je alleen filmpjes van 1 minuut kan kiezen, blijkt niet zo te zijn. Kan ook 2 of 3 minuten kiezen. Ook instellen van de ADAS functie gaat prima en duurde niet 8 minuten zoals ik ergens gelezen heb. Binnen 2 minuten was de calibratie uitgevoerd. Alle functies werken goed. Ben er tevreden mee.
product goed ontvangen, ben zeer tevreden
Mooie product voor een redelijke prijs
Ondanks een niet complete levering 1 belletje en ze lossen het op top
Mooi voorbeeld voor andere shops
Mooie en handige dash-cam. Aangeschaft met GPS module zodat de maximale functies beschikbaar zijn.
Mustafa Guven
08 May 2020
Snelle werking en goed beeld.
Echt een aanrader voor deze prijs!
Handige camera dashcampro. Eenvoudige installatie en in gebruik.
Ik zocht een goede en betaalbare dashcam voor mijn auto en heb bij Xiaomi besteld.
Hoewel na 15:00 uur besteld ontving ik hem tot mijn verassing toch de volgende dag. Super!
En de dashcam werkt eveneens super!

Kortom, ik ben zeer tevreden.
Mooi design en perfect beeld
Verpakking ziet er al zeer high-end uit en het product doet er zeker niet voor onder, eenvoudig te installeren dankzij een duidelijke handleiding.
Prima product voor weinig geld.
lijkt me een goed produkt
Heb de dashcam besteld door ANWB goed beoordeeld als voordelige keus. Tegelijk de GPS-ontvanger en een micro-sd-kaartje.
Dit alles is snel geleverd en functioneert naar behoren!
Naar aanleiding van de review van de ANWB betreffende de dashcam van Xiaomi er eentje aangeschaft. Mooi Produkt. Degelijk, mooie beelden en gemakkelijk in gebruik. Daarbij ook nog eens een vriendelijke prijs.
Gemakkelijk besteld en snel geleverd.
Pas enkele dagen in gebruik. Is gebruiksvriendelijk en prima beeld
Top apparaat en zonder probleem en zonder extra euro's een extra bevestiging sticker erbij geleverd
Snel, goed en gemakkelijk
P. van der Wal
06 April 2020
Topproduct. Volgende keer weer zonder twijfel.
Het product werd snel geleverd en het voldoet zeker en vast aan mijn wensen , het klopt volledig met de beschrijving op de website en ik ben dus enorm tevreden over mijn aankoop !!!
m.c.h. Legeer
05 April 2020
perfect, topproduct, goede prijs
70mai dashcam van xiaomi aangeschaft. Prima product, goed beeld. Snel geleverd door xiaomiproducts.
ONGEVEER 3 WERKDAGEN HET PRODUCT BINNEN.
WAT WIL JE NOG MEER
DASHCAM WERK NAAR WENS NIETS OP AAN TE MERKEN
Ronald Wijma
29 March 2020
Super scherp beeld en zeer gemakkelijk in gebruik. Als je opzoek bent naar een goede en betaalbare Dashcam dan kan ik je deze zeker aanbevelen.
Voor een gunstige prijs, leuke gadgets.
Waar voor je geld, precies gekeverd zoals besteld en binnen 1 dag geleverd.
Product ziet er goed uit en gemakkelijk te installeren.

Tot nu toe geen klachten
De 70mai Dashcam Pro doet alles wat je van een topproduct mag verwachten. Dit voor een zeer schappelijke prijs.
De info op de website is prima. De levering vlot.
Aanrader!
Mooie prijs/kwaliteit verhouding.
Kwalitiet van de beelden is fantastisch.
Zelfs tool om de bedrading weg te werken zit er bij.