Ordered before 20:00 -> Next day at home
Pick up at 3000+ PostNL pickup points.
Lowest price guarantee
Above 75 euros no shipping costs
2 years warranty
Personalized customer service
Information
Xiaomi 70MAI Dashcam European Version
The Xiaomi 70Min Dashcam is suitable for every car.

Dashcams are now almost indispensable in cars. Thanks to a dashcam you always have evidence when an accident occurs. The latest Xiaomi 70MAI Dashcam is equipped with a built-in G-sensor that automatically saves secure recordings when you have an accident. In this way, the recordings can not be overwritten and lost and you always have evidence.
The Xiaomi 70MAI Dashcam is also great for car holidays. Thanks to the Dashcam, the environment is beautifully recorded. Because the Xiaomi 70MAI Dashcam is equipped with a 130? Wideview lens, the camera has an amazing range. The Xiaomi 70MAI Dashcam has the SONY IMX323 sensor at its disposal. This provides the dashcam a great video quality of 1080p Full HD with 30 frames per second The image quality is both day and night razor sharp and the Xiaomi 70MAI Dashcam brings details perfectly into focus.
The Xiaomi 70MAI Dashcam supports Micro SD cards up to 64GB, which equals up to 8 hours of footage. Thanks to the smart technology of Loop Recording, the Dashcam keeps on filming without becoming full. The recordings are automatically saved to a Micro SD card minute by minute. The oldest recordings are deleted as the card fills up so there is always room for new recordings and you always save the last moments of your trip!
Very easy to use
The Xiaomi 70MAI features 2.4 Ghz WiFi with a range of 10 metres. Thanks to the WiFi App, which is available for both IOS and Android, the recordings can easily be opened and downloaded. This way, there is no need to remove the SD card from the camera. The application also gives the possibility to take photos.
Thanks to the smart technology, the Xiaomi 70MAI automatically starts filming when you start the car. Thanks to the built-in 240mAh Li-polymer battery, the camera can continue filming for a short time while the car is turned off.
Thanks to the Voice Command, the Xiaomi 70MAI Dashcam can even be operated by voice. So you can always keep your hands on the wheel and operate the dashcam. Should you encounter something beautiful or striking on the road, then you can easily take a picture with the Voice Control!
A fantastic image range thanks to the 130° Wideview lens
Video quality of 1080p FullHD with 30fps
Non-stop filming thanks to the smart Loop Recording technology
Voice controlled operation thanks to Voice Command


Curious about all our dashcams? Check them out here!
Order the Xiaomi 70MAI Dashcam directly online! On weekdays before 20:00 ordered = next working day in house.
Specifications
| | |
| --- | --- |
| Video resolution: | 1920 x 1080 |
| Frame rate: | 30 fps |
| Sensor: | Sony IMX307 |
| Chipset: | MSC8336D |
| Lens: | F/2.2 |
| Front and back image: | Front only |
| Field of View: | 130º |
| Screen size: | n/a |
| Touchscreen: | No |
| Battery duration: | n/a |
| Type of SD card: | Micro SD up to 64GB |
| Built-in GPS: | No |
| WiFi: | Yes |
| Bluetooth: | No |
| Control via App: | Yes |
| Microphone: | Yes |
| Loop recording: | Yes |
| Parking mode: | No |
| Night Vision: | Yes |
| ADAS: | No |
| Lane support: | Yes |
| G-sensor: | Yes |
| Foto/video-formaten: | MP4 |
| Mounting method: | Sticker |
| Possible additional accessories: | Micro SD card |
| Port type: | Micro USB |
| Languages: | EN/RU/KR/JP/SP/PT |
| Weight: | 200 g |
| Dimensions: | 91 x 52 x 31 mm |
| Model number: | Midrive D06 |
| Package content: | Dashcam, mount, power cable, adapter, electrostatic sticker, adhesive sticker, crowbar and manual |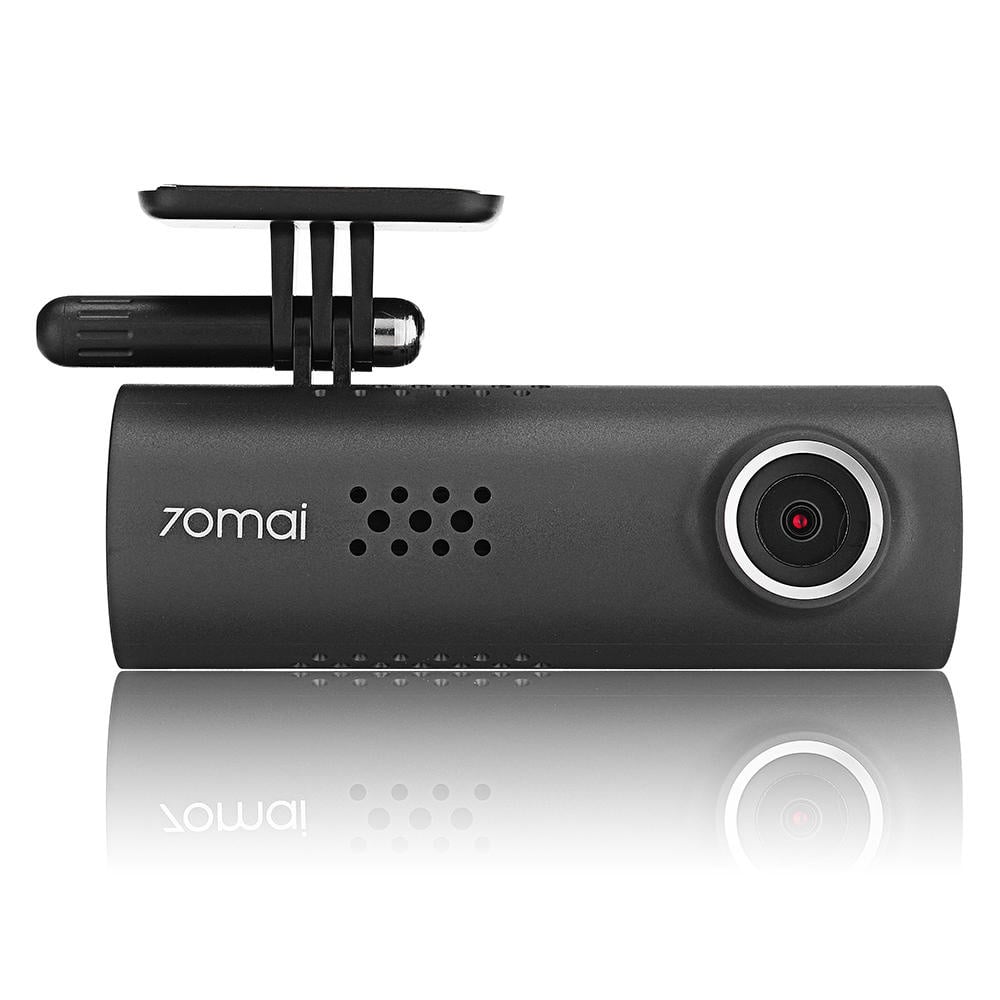 zéér goeie communicatie en service, absolute aanrader
Kwaliteit van het product is prima en werkt naar behoren.
Goede prijs en makkelijk te gebruiken dashcam
Hans Nota
06 December 2019
Na eerdere ervaringen met Xiaomi producten ( o.a.Xiaomi MI TV box) had ik geen enkele twijfel over de aanschaf van Xiaomi 70mai dashcam. Ik was mij goed bewust van de specificaties en de prijs. In het verleden vond ik de prijs voor een dashcam vaak te hoog voor wat ik in gedachten had, en in het lagere prijssegment had ik grote twijfels over de kwaliteit.
De 70mai is perfect voor mij. Ik ben geen dashcam-youtube, ik wil gewoon iets wat goed registreerd bij mogelijke ongelukken. Zeer tevreden over de inbouw, installeren, en het gebruik (automatisch).
Top, helemaal een fit voor mij qua kwaliteit(top) en prijs(budget). Veel kwaliteit zonder een hoge prijs.

Makkelijk dat ik het in Nederland kon bestellen en snel in huis had. Ik zal hier vaker kijken Xiaomi producten, vooral voor domotica.
bestelling, ingebruikname
Alles was prima, product zo als geadverteerd, goed prijs en snel verzending
apparaat werkt perfect en voldoet aan de verwachtingen ..
Marco Steffens
04 November 2019
Zeer snelle levering. Smiddags besteld, volgende dag al in huis. Dashcam besteld, met overduidelijk een goede prijs kwaliteit verhouding.
Ik stond versteld van de kwaliteit van het beeld
Ik heb een dashcam gekocht, eenvoudig model zonder veel poespas. Hij doet wat ie moet doen en dar vind ik belangrijk! Voor een prima prijs.
De levering was goed, de volgende dag was het product in huis.
uitstekend product en voldoet aan alle eisen
Dashcam werkt perfect. Eenmaal installeren op de voorruit en instellen met de telefoon en voor de rest vergeten. Beelden zijn goed. Prima prijs kwaliteit verhouding.
Goede prijs gunstige dash cam die scherpe beelden aflevert, ben zeer tevreden met dit product
Jeroen Schultheiss
23 April 2019
Zeer fijne dashcam met scherp beeld! Goede prijs en kwaliteitsverhouding. Een aardige lange voedingskabel zit erbij om goed weg te werken in de auto. Ook de 70mai app werkt perfect op mijn iphone.