H96 Max X3
Ordered before 20:00 -> Next day at home
Pick up at 3000+ PostNL pickup points.
Lowest price guarantee
Above 75 euros no shipping costs
2 years warranty
Personalized customer service
Information
H96 Max X3
Super-fast and smooth performance
With the H96 Max X3 Mediabox, you can turn your normal TV into smart TV. For high performance, usability and compatibility, the TV box runs on the smooth Android 9.0 Pie operating system. The H96 Max is equipped with a powerful Amlogic S905X3 chipset with 64-bit quad-core processor, making even 4K (60fps) and 8K (24fps) images possible! Together with the 4GB of RAM, this results in blazing fast performance and smooth images without any hiccups.
The H96 Max offers an internal storage memory of 64 or 128 GB that is also expandable with a MicroSD card reader. This allows you to download unlimited movies and applications to your TV box. In addition, most Android games can be played without any problems. The device also works smoothly with DStv, Netflix, KODI, Showman and Youtube. Thanks to the high quality image and sound, the media box brings you a more realistic film, game and music experience.
Excellent connectivity
The sleek round design is colourful and gives the TV box a stylish look. The H96 Max X3 measures only 114 x 21 mm and weighs only 400 grams. The device is therefore easy to place anywhere. Thanks to the Bluetooth connectivity and Dual-Band WIFI with both 2.4 Ghz and 5 Ghz, cables are not necessary.
Thanks to the USB 2.0, USB 3.0, TF, DC, SPDIF, HDMI 2.1, LAN Gigabit Ethernet and AV ports, you can use the box for all purposes. The H96 Max is easy to connect to your phone for endless possibilities. Other Bluetooth devices such as a wireless keyboard, speaker or gamepad can also be connected to the TV box. With the included IR remote control, you can easily navigate through the menu.
Runs on the blazing fast Android 9.0 Pie
No hiccups or freezing thanks to the powerful processor and 4 GB RAM
Expandable internal memory of 64 or 128 GB
Works with a wide range of applications including Netflix, KODI and Youtube
Extremely smooth Bluetooth connection for all your Bluetooth devices


Order the H96 Max directly online. Order before 8pm = next working day delivery.
Specifications
| | |
| --- | --- |
| Android version: | Android 9.0 Pie |
| Processor: | Qualcomm Snapdragon 662 |
| GPU: | G31 MP2 |
| Chipset: | Amlogic S905X3 Quad-core CPU |
| Resolution: | 8K/4K Full HD |
| RAM storage: | 4GB |
| ROM memory: | 32GB, 64GB or 128GB |
| Video format: | Mkv, wmv, mpg, mpeg, dat, avi |
| Audio format: | MP3, AAC, WIMA, RM, FLAC, Ogg |
| File format: | Mov, iso, mp4, rm, jpg |
| Bluetooth: | Yes, V4.0 |
| LAN: | Yes, ethernet till 1000 Mbps |
| USB Port(s): | USB2.0 and USB3.0 |
| Further connections: | TF, DC, SPDIF, HDMI 2.1, LAN Gigabit Ethernet and AV |
| Dimensions: | 11.4 centimeters in diameter, 2.1 centimeters high |
| Package content: | TV Box , remote control , manual , HDMI cable , power cable |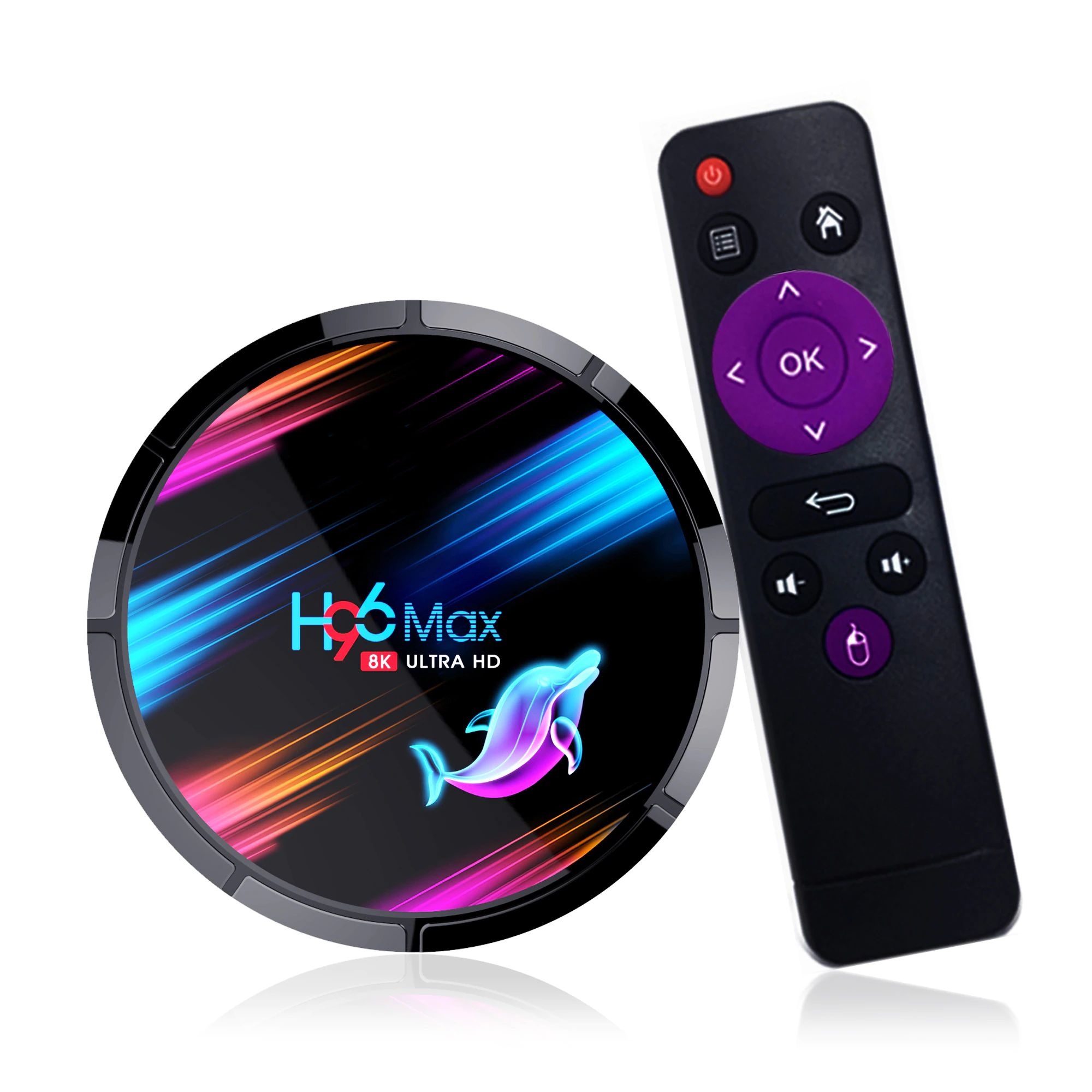 Goed product. Goede prijs
jean-claude Monsieur janssens
15 June 2022
Simple rapide et efficace .
Lekker klein en doet wat hij moet doen. Mijn tv is wel 4k maar niet 60mgh waardoor het beeld ging flakkeren, bij instellingen het terug gezet naar 30mgh en toen was het weg.
Ik vond bij Xiaomi Products een specifieke Android TV box voor een goede prijs. k ben er blij mee!
vlotte levering. 4/64gb besteld en 4/128gb ontvangen. werkt als verwacht. bijgeleverde eenvoudige afstandbediening is te beperkt. vind ik geen probleem want ik gebruik een flymous met keyboard erbij.
ziggogo app gewoon te installeren via app store. store denkt dat het apparaat een google pixel telefoon is.
Ron Verschoor
13 July 2021
Goede snelle levering van een goed product wat precies doet wat het moet doen.
Intussen heb ik een 2e aangeschaft aangezien mijn broertje hem ook zeer handig vind!
Zeer simpel op te starten en in te stellen, in mijn geval wil ik er de KPN Itv app op draaien
om buiten tv te kunnen kijken, dan is dit een super oplossing, geen duren kast van KPN huren,
gewoon 1 malig aanschaffen, app downloaden uit de playstore en gaan.
Zeer scherp beeld, geluid ook gewoon zoals het hoort, en kan zowel via WiFi als ethernet kabel werken.
Wij gebruiken ze wel icm met een i8 toetsenbord, is wel een aanrader voor erbij.
4Gb Ram is gewoon een must, en als je er niet veel apps op wilt zetten is 32Gb zat.
Ik heb deze box besteld en de volgende dag keurig geleverd. Wij hebben deze box in de plaats van onze digibox geplaatst. Het opzetten van dit systeem is gemakkelijk. Via de Kodi App kan je ook VRT ontvangen of via de VTM go app kan je alle VTM series zien. Waarom nog een duur tv abonnement als het met deze oplossing ook kan! Ik bestel altijd via deze site, kwaliteit is meer dan uitstekend.
Snelle en soepele navigatie, Ziggo Sport Totaal werkt omdat deze Android box als telefoon wordt herkent, alle andere apps werken ook. Disney+ is niet via de reguliere playstore te downloaden. Geluid is standaard een beetje zacht, het beeld is erg goed. De functie HDR maakt 720P uitzendingen (zoals de Ziggo-app) net iets mooier om te kijken.
Geen haperingen, lekker stabiel, een fijn kastje om er bij te hebben.
Chang Teun
30 January 2021
doet wat het moet doen, ik ben happy
Product voldoet beter dan verwacht.
Goed product voor relatief weinig geld