Ordered before 20:00 -> Next day at home
Pick up at 3000+ PostNL pickup points.
Lowest price guarantee
Above 75 euros no shipping costs
2 years warranty
Personalized customer service
Information
Xiaomi Redmi Airdots
The high-quality wireless earbuds at a friendly price
Hours of listening pleasure
Enjoying music in comfort without any wires? With the Xiaomi Redmi Airdots you can, and at a very friendly price too. These wireless earbuds guarantee a clear and full sound. The bass comes out well and the treble is very clear. The Digital Signal Processor (DSP) provides a pleasant noise reduction making music and phone calls clear and audible, even in a busy environment. Thanks to the integrated Bluetooth 5.0, the Xiaomi Redmi Airdots can be connected to your smartphone in no time. You also have no problems with interference while listening!
The Xiaomi Redmi Airdots are equipped with a 40 mAh battery which equates to around 4 hours of non-stop listening pleasure. Thanks to the 300 mAh charging case, you can also enjoy your favourite music for approximately 12 hours. Thanks to the small size of the charging box, the earphones can easily be taken anywhere. Handy, right?
Sleek and comfortable design
The design of the Xiaomi Redmi Airdots is sleek and feels very nice. Thanks to the low weight of only 4.1 grams, you hardly feel the earphones and you will soon forget that you are wearing them. Thanks to the soft rubber, the earphones are always very comfortable. The solid support ensures that the earbuds will not fall out quickly. This makes the Xiaomi Redmi Airdots ideal for sporting activities. Thanks to the absence of the cord, you can now move freely without any problems! With the built-in button on the earphones, it is easy to answer calls and change the music at any time, quickly move to the next song? No problem with the Airdots!
Noise reduction for clear sound
No interference and easy to connect thanks to Bluetooth 5.0
Simple to operate
With charging box more than 12 hours of listening time
Ergonomic design
Pleasant wearing comfort


Order the Xiaomi Redmi Airdots directly online! Ordered on weekdays before 20:00 = delivery the next working day.
Specifications
| | |
| --- | --- |
| Type: | In-Ear |
| Driver: | 7.2 mm |
| Connectivity: | Bluetooth 5.0 |
| Noise Cancelling: | No |
| Microphone: | Yes |
| Frequency: | 20 Hz - 20000 Hz |
| Impedance: | 16 Ω |
| Supported protocols: | HFP, A2DP, HSP, AVRCP |
| Wireless: | Yes, fully TWS |
| Connection: | Micro-USB |
| App support: | No |
| Waterproof : | Yes |
| Fast Charging: | No |
| Charging time of the earphones: | 1,5 hours |
| Earphone Listening Time : | 4 hours |
| Dimensions of the ears: | 2.7 x 1.6 x 2.2 cm |
| Charging time of the case: | 2 hours |
| Case usage time: | 12 hours |
| Case dimensions: | 6.2 x 4.0 x 3.5 cm |
| Wirelessly rechargeable: | No |
| Weight per earplug: | 4.1 g |
| Operating the earphones: | Yes |
| Color : | Black |
| Weight: | 35.4 g |
| Package contents: | Redmi Airdots, charging case and cable, manual, 3x ear tips (S/M/L) |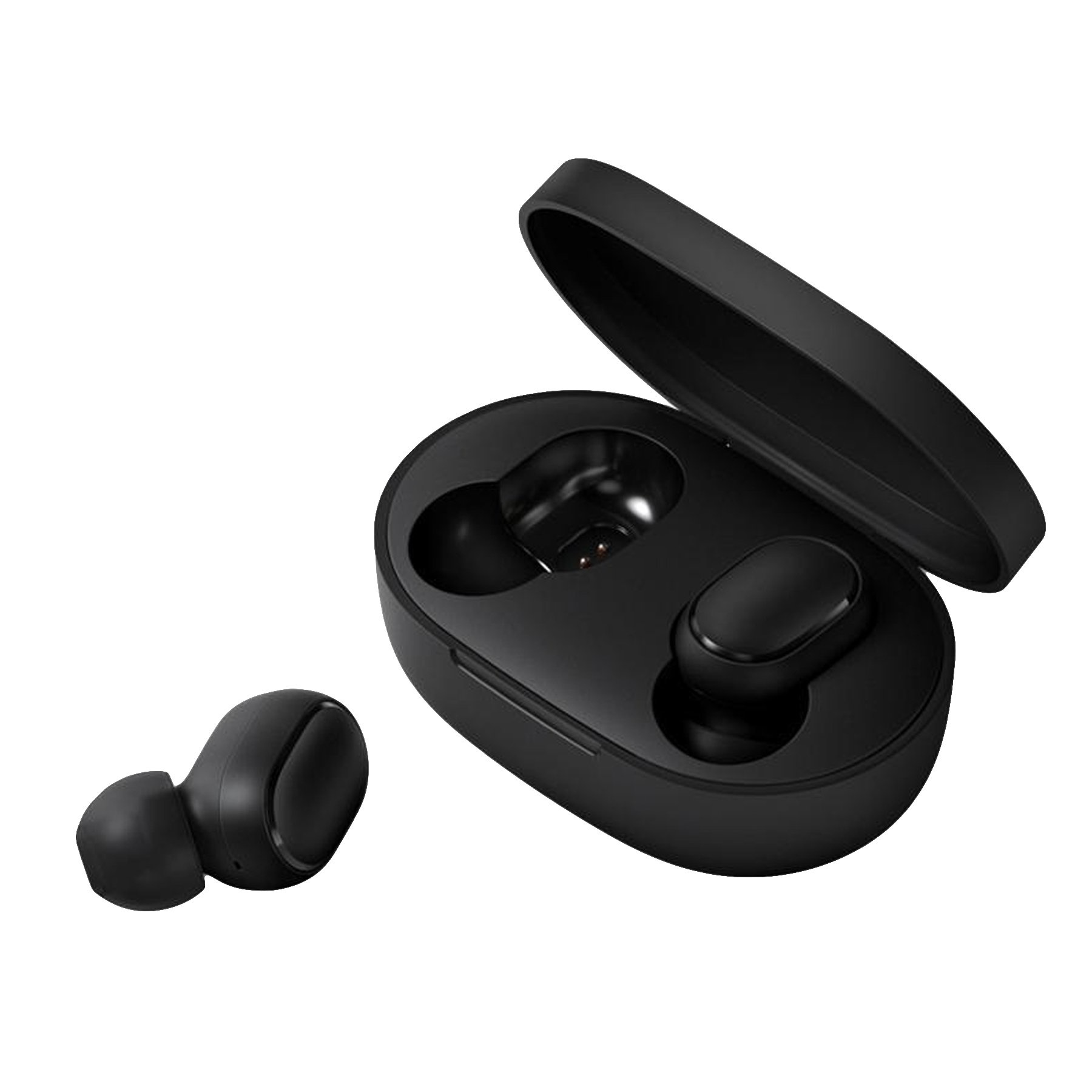 Purchased Xiaomi Xiaomi Redmi Airdots great for sport fit perfect,Awsome sound great quality excellent value for ££
10/10, beste geluidskwaliteit wat ik ken, super lage prijs. Weer onder de indruk met deze website en Xiaomi. Ook super
I order Xiaomi Redmi Airdots
and i love it. Ten points for shop.
Alles zoals verwacht, snel en kwalitatief voor de prijs. Verwacht geen superieure kwaliteit, maar betere geluidakwaliteit dan soortgelijke bedrade oortjes
Goed geluid, zitten goed en makkelijk te koppelen.
Het is uitstekende kwaliteit. Je hoeft ze niet te vaak op te laden en ze verbinden direct met je gsm. Ook is dit qua prijs kwaliteit zeer goed.
Artur Wnetrzak
13 April 2020
Good product and good service. Sry i dont knows dutch good.
Jan-Paul Majoor
08 April 2020
Dit zijn mijn eerste in ears. Op aanraden van een collega aangeschaft en nog geen spijt van.
Xiaomi heeft snelle levering en goed contact.
It was my first experience with a Xiami product and I'm happily impressed. The product is great and very easy to use.
Snelle levering, en originele Xiaomi producten. Via de Blauwe b had ik een imitatie product ontvangen (via een sub verkoper), toen op deze website hetzelfde product besteld en deze was gelukkig wel origineel. Wat een kwaliteitsverschil en voor dezelfde prijs. Een blije klant.
Snelle levering en het artikel voldeed perfect aan de beschrijving. Erg goed!
Nothing to say about this Airdots. They are very very good. The price is too cheap to the good quality of this earphones! The connectivity between your smartphone bluetooth and the earphones is instantly.
Goede kwaliteit! Snelle levering! Goede service!
Het artikel is beter dan verwacht. Super mooi geluid en het was enorm goed ingepakt.
Snelle levering. Goed verpakt.
Geluid is goed en koppelt heel snel aan telefoon.
De bestelde oordopjes (Xiaomi Redmi, welke overigens een nieuwe naam heb de 'Wireless True Basic), echt van goede (prijs/) kwaliteit!
Je viens de recevoir les airdots et pour le moment j'ai rien à dire.

Merci
Joost van baarle
04 January 2020
Het geluid is heel goed, mooie bass
Het product doet het erg goed.
Nicole Melega
29 December 2019
Excellent, product in stock, super fast delivery
De oortjes werken uitstekend
Heb in ear mi gekocht, ze zijn geweldig....top
Kelly Heijn
15 December 2019
Deze zouden pas na 16 December geleverd worden, maar werden tot mijn schrik eerder naar mijn adres verstuurd. Kwaliteit is super. Geluid en bass is goed in balans. Geen schel geluid. Ook vergeleken met de QCY oordoppen die ik bezit. Deze Airdots zijn kwalitatief beter en makkelijk te gebruiken/bedienen. Wederom goed product van Xiaomi! Aanbevolen!
Merknaam Xiaomi kende ik al van smartphones dus ik durfde de gok wel aan om de Xiaomi Redmi Airdots te bestellen. En ik heb er geen spijt van. Geluid is super voor deze prijs, mooie volle bas en heldere hoge tonen. Pasvorm is top. Kortweg, ik durf deze Xiaomi Redmi Airdots rustig aan te bevelen aan iedereen.
Prijs en kwaliteit is boven verwachting. Zou ik deze weer bestellen? Ja zeker wel.
Ik kocht een paar bluetooth-oortjes. Op zaterdag besteld, dinsdag in huis. Maandag zou ideaal zijn geweest, maar omdat de geboden prijs verreweg delaagste was, ben ik overall toch erg enthusiast.
Oordopjes werken goed. als je ze in je oor hebt zonder muziek hoor je bijna tot geen geluid van buitenaf. dit is heel positief. ook verbinden ze makkelijk met elkaar (als je ze tegelijkertijd eruit haalt). wanneer je ze uit het hoesje haalt, gaan ze meteen aan en verbinden ze met je telefoon als bluetooth aan staat. wanneer je de oordopjes weer in het boxje zet dan beginnen ze ook meteen met opladen, hierdoor zijn ze altijd opgeladen. voor een redelijke prijs krijg je goeie oordopjes van goeie kwaliteit.
Ik was op zoek naar Bluetooth oortjes en kwam via Google uit bij deze van Xiaomi. De bezorging was erg snel en werd netjes op de hoogte gehouden met een track en trace code. Oortjes zelf zijn echt heel goed, komen in een mooi ooberg/oplaaddoosje.
Kim Caers
09 December 2019
De oordopjes vergeet je soms weleens om ze uit te doen omdat ze zo ligt zijn Goede oordopjes
Marcel Wuytenburg
06 December 2019
Prima levering van prima product
Goed geluid
Goeie batterij
Too product
Top oortjes
Rijken GS
18 November 2019
Pairing snel, geluid mooi en vol op de Samsung note 10 plus met Dolby atmos. Prijs/kwaliteit top. Instelllen makkelijk. Levensduur nog in onderzoek, pas een paar dagen in bezit.
Ik kocht xiaomi draadloos oordoppen ik dacht zal wel weer Chinese zooi zijn gezin de prijs ik heb hem nu 3 weken kunnen testen .hij voldoet meer dan mijn verwachting .was snel geleverd ,netjes verpakt , accu van dat ding gaat echt lang mee en je kan hem gewoon 3 a 4 keer opladen in de doosje als je doosje open doet vallen ze niet eruit ze zitten met ingebouwde magneet vast ,geluid is voldoende en je kan hem in je oor bedienen ,en als hem uit de doos haalt gelijk verbinding met je telefoon .laatste was zelf vergeten te laden zo lang gaat ie mee ik zou zeggen beter dan AirPod :))
Geluid is goed en, het belangrijkste, de bluetooth verbinding is stabiel. Ook in de trein en op het station. Het pairen van de dopjes was nog wel een dingetje. Sindsdien erg tevreden.
Heb ze nu dagje in gebruik en de prijs en kwaliteit verhouding is gewoon heel goed.

Ik heb ook earbuds van 110€ die hebben een iets voller geluid maar ook een heel stuk duurder.
Trimmy Alija
14 August 2019
Ik heel erg tevreden met deze oortjes van xiaomi en zij werken voor mij goed bedankt voor zo goede oortjes Xiaomi.