Xiaomi Mi Band 7 European Version
Ordered before 20:00 -> Next day at home
Pick up at 3000+ PostNL pickup points.
Lowest price guarantee
Above 75 euros no shipping costs
2 years warranty
Personalized customer service
Information
Xiaomi Mi Band 7 European Version
After more than a year, the successful Xiaomi Mi Band 6 finally has a successor, the Xiaomi Mi Band 7! This advanced fitness tracker has a 1.62-inch AMOLED panel of 490x192 pixels with Always On capability. This screen is 25 percent larger than that of its predecessor. The processor has also been upgraded to the latest Dialog 14706 CPU. And that is not the only thing that is growing: the battery with 180 mAh is also a size larger than the 125 mAh of the Mi Band 6.
With the new features, the Mi Band 7, like its predecessor, lasts 14 days and 8 days with intensive use. The new software of the Xiaomi Mi Band 7 shows all kinds of new icons, animations and 100 new watch faces. These watch faces are there to save energy when the screen is constantly on.
Go for all your fitness goals
Of course, you use the watch, better qualified as a "fitness tracker," mainly for measuring and processing fitness-related information, such as your steps and calories burned. Believe us: every fitness junkie will find everything they need with this watch: it measures 120 sports activities (4 times as many as the Mi Band 6) and it automatically recognizes your activities. Distance and speed is measured by the Connected GPS. Going for a workout? Then it records your training load, recovery time, maximum oxygen time (VO2 Max), calories burned and your average heart rate.
Monitor all your health statistics
A big update is the Xiaomi Mi Band 7's improved SpO2 meter, for accurately measuring the oxygen level in your blood. If it gets below 90, it alerts you with a vibration. This is especially useful for people with breathing problems or if you are at high altitude.
In addition, the Mi Band 7 monitors your stress level and can measure your heart rate throughout the day. At night, the Mi Band 7 tracks how long you sleep, as well as when and how long you were in a light or deep sleep. You can find these results exactly in the handy application afterwards.
The Mi Band 7 shows you incoming calls and Whatsapp messages and can be fully integrated with your cell phone. The Xiaomi Mi Band 7 is waterproof and can be used up to 50 meters underwater. A true all-rounder.
Completely to your own style
With the Mi Band 7 you can choose from 6 different bands, including a striking fluorescent band. You can also order an extra replacement band at TechPunt.nl. This way, you will not only have the latest fitness tracker, but you can also give it your own taste!
1/62 inch AMOLED panel
Equipped with 120 sport modes
Records your workload, recovery and oxygen time, and calories burned
Monitors your heart rate, blood oxygen and sleep rhythm
Lasts 14 days on a full charge
Waterproof up to 50 meters deep


Order the Xiaomi Mi Band 7 European Version directly online! Ordered on weekdays before 20:00 = delivery the next working day.
Specifications
| | |
| --- | --- |
| Display: | Amoled, 192 x 490, 1.62 Inch |
| Touchscreen: | Yes |
| Always on display: | Yes |
| Pedometer: | Yes |
| Heart rate monitor: | Yes, continuously |
| Sleep tracker: | Yes |
| Blood oxygenometer: | Yes |
| Stress score: | Yes |
| VO2 max sensor: | Yes |
| Menstrual cycle tracking : | Yes |
| Sportmodi: | Yes, 110 |
| WiFi: | No |
| Bluetooth: | Yes, 5.2 |
| NFC: | Yes |
| App: | Mi Fitness or Zepp Life |
| GPS: | Yes |
| Integrations: | - |
| Music link: | Yes, via telephone |
| Compatible with: | Android 6.0 and iOS 10.0 |
| Battery Capacity + lifetime: | 250 mAh, 14 days |
| Built-in speaker and/or microphone: | Neither |
| Waterproofing: | Yes, IP68 |
| English language available: | No |
| Type of strap + interchangeable strap: | Silicone, yes |
| Adjustable strap length: | No, but can be adjusted |
| Storage: | - |
| Model number: | M2129B1 |
| Dimensions: | 4.7 cm x 2.1 cm x 1.2 cm |
| Weight: | 13.5 g |
| Package content: | Mi band, charger, manual |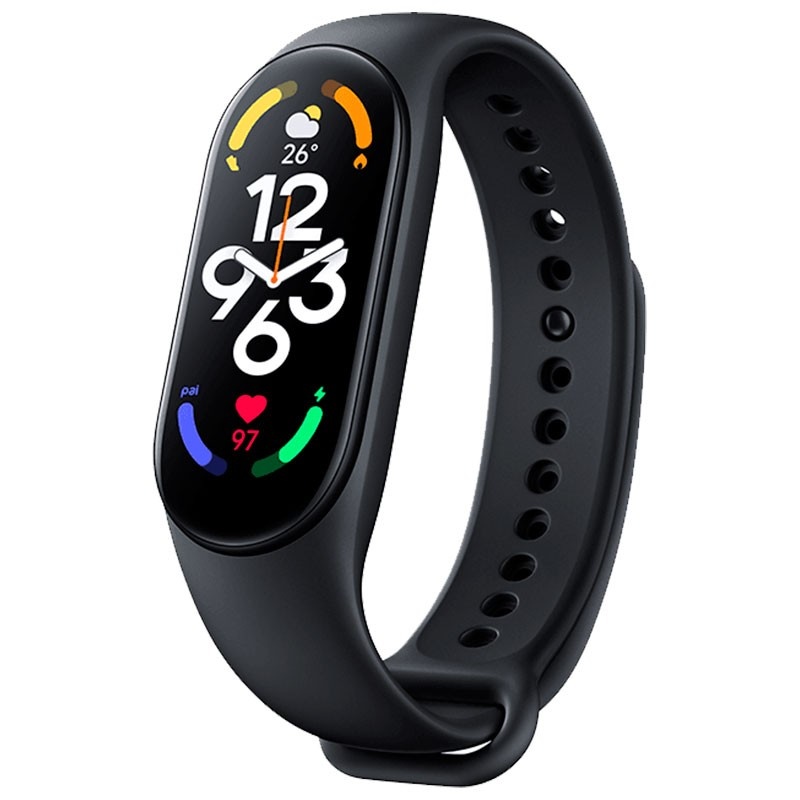 Prima laagste prijs! Leuk aanbod!
Het product voldoet aan mijn verwachtingen.
Een goede aanvulling op mijn Apple Watch voor de wat meer "brute" sportactiviteiten en voor zwemmen.
Snel geleverd. Tevreden over het produkt
Schnell geliefert und gute Qualität. Jederzeit wieder.
Snelle levering van super kwalitatieve producten tegen een heel schappelijke prijs
The Xiaomi products are amazing, anyone that tries them will fall in love with them.
Aleksander Stasiuk
20 July 2022
I bought a Mi band 7 for only 60 euros, it costs around 65 on the original website, love how it came and it's the actual product
First time dealing with this company, wanted to upgrade to the Mi band 7 and they had it in stock. So I went ahead and purchased, good price with reasonable delivery cost and very good item tracking. Package arrived within the specified time. Securely packaged, so not much else to add overall just a great buying experience.
Zeer mooie band maar de batterij doet niet wat er beloofd is hier binnen een week al leeg.echt jammer
Top product , je merkt niet dat je hem om hebt. alles duidelijk af te lezen en alles goed in te stellen via de telefoon app.
Sehr zu empfehlen,alles perfekt funktioniert! Danke
Es hat alles perfekt funktioniert.
Darius Rogowski
22 June 2022
Zeer goede kwaliteit Lange batterijduur. Zeer snelle bezorgservice 1A top!
Inmiddels; Zoals verwacht een prima stappenteller/horloge. Het bredere (maar iets kortere) scherm is overzichtelijker dan de Mi band 6. Ben er superblij mee. Doordat het scherm iets korter is, maar ook iets breder, had ik het vermoeden dat er specifieke Mi band 7 bandjes zouden moeten worden gebruikt, maar niets is minder waar!, al mijn mi band 5/6 bandjes zijn ook te gebruiken voor de Mi band 7.
nu al verkrijgbaar fantastisch, heel mooi en duidelijk scherm gaan we uitproberen de komende weken,
"Makkelijk bestelen snel binnen!
De nieuwe MI 7 is een stuk uitgebreider.
Blij mee en kekker duidelijk!"
Goede product omschrijving, Na order plaatsen-bestellen

snelle afhandeling/ verzending.
Alles bestens funktioniert.
Heb hier een mi band 7 besteld. Horloge is nog haast nergens te krijgen.. Was er wel bij bol maar veel duurder. Werd verstuurd via brievenbus pakketjel en is meteen de volgende dag geleverd.. Al met al een optimale ervaring
Bei meiner Bestellung eines Mi Band 7 hat alles wunderbar geklappt. Schnelle Lieferung aus NL nach Deutschland, der Artikel ist genau wie beschrieben und funktioniert einwandfrei. Alles bestens. Ich würde jederzeit wieder bei Techpunt bestellen. Sehr zufrieden!
Brandneuer Fitnesstracker Mi Band 7 mit deutscher Version innerhalb kurzer Zeit geliefert. Bin voll zufrieden.
Vrijdagmiddag besteld en zaterdag in huis. Vragen ook direct beantwoord dus prima service.

Na opstarten door verbinden met de lader kan de Mi Band simpel worden toegevoegd aan Zepp life (de app van Xiaomi) middels een QR code. Was in eerste instantie geen Nederlandse taal beschikbaar op de Mi Band maar de app gaf al snel aan dat er een update toegepast moest worden. Daarna alles in het Nederlands. De update zou volgens de Mi Band 15 min. duren maar dat was bij mij 4 uur. Dat viel even tegen maar zal ongetwijfeld aan mijn wat oudere telefoon hebben gelegen met een trage Bluetooth verbinding.

Eerste indruk van de Mi Band 7 na 1 dag: helemaal goed!
Aan de kwaliteit van de Mi Band 7 is niets aan te merken. Het grotere scherm is handig en makkelijk te gebruiken.
Eén minpunt wel: de app Mi Fitness (versie 3.4.1i - update 30/05/2022) herkent de nieuwe Mi 7 niet. Ik ben noodgedwongen overgeschakeld naar de app Zepp Life (MiFit).
Daniel Peltenburg
05 June 2022
Derde mi band die ik nu heb aangeschaft.
De 7 heeft een iets minder lang (over de breedte van de pols) en iets breder (over de lengte van de Pols) display. Hierdoor oogt het scherm groter en overzichtelijker. Ook de helderheid is verbeterd en is nu instelbaar. Maar je ook rekening mee moet houden dat (tot op dit moment) mifitt (notabene van mi zelf) nog niet het 7 model in haar lijst heeft staan en niet te koppelen is. (Zepp life lukt overigens prima)
Heel blij met mijn Mi Band 7. Zit lekker comfortabel aan mijn smalle pols, beter dan zijn voorganger doordat het scherm iets minder lang en iets breder is. Het grotere scherm is makkelijk leesbaar. Meteen Nederlandse taal beschikbaar. Supersnel geleverd, heel blij met de goede service van Techpunt!