Xiaomi M365 Electric Scooter European Version
Ordered before 20:00 -> Next day at home
Pick up at 3000+ PostNL pickup points.
Lowest price guarantee
Above 75 euros no shipping costs
2 years warranty
Personalized customer service
Information
Xiaomi M365 Scooter European Version
Lightweight, but exceptionally fast and comfortable scooter with an electric motor on board.
Meet the Xiaomi M365 Scooter
Although the product name of the Xiaomi M365 Scooter may suggest otherwise, we are talking about a scooter here. However, do not confuse this scooter with a model for children! The Xiaomi M365 Scooter is a scooter, equipped with a powerful electric motor. After stepping on it once or twice, you press the throttle and the electric motor is activated. This electric motor will take you effortlessly to your destination. Where will you ride on this Xiaomi M365 Scooter?
Not only the powerful motor can be a reason to buy this unique product. In fact, the model has a weight of only 12.2 kilograms. This makes it possible to take the scooter with you on public transport as well. Compare it to a simple folding bike, but even more compact!
Fast and safe to your destination
.
The Xiaomi M365 Scooter reaches a surprisingly high speed at 25 kilometers per hour. You can compare this speed to that of the average cyclist. On the left side of the handle is a lever for operating the disc brake on the rear wheel, the maximum braking distance is only 4 meters! On the right hand side you will find a lever to accelerate. The use of the disc brake is often not necessary, because the scooter itself comes to a quick stop when the throttle is released. The 8.5 centimetre tires make it easy to ride off and on low sidewalks. 
With the battery of this Xiaomi M365 Scooter you can cover a distance of about 30 kilometers. Should you ride at the maximum speed of 25 kilometers per hour during your entire ride, the range will be slightly less. Charging the scooter takes 5.5 hours.
Other conveniences, the M365 has integrated powerful front and rear lights (including brake light) and also features an app, which allows you to easily see and adjust the battery status and settings. In addition, the app also shows statistics such as the driven speed, distance and time.

TechPunt.co.uk sells the official European Version of this model. This means that it is the latest version and has the extras: Dutch power adapter, a pair of spare tires and an English manual. 
At the moment the regulations for the use on public roads in the Netherlands are still incomplete, in Belgium the use is fully permitted. We advise everyone to read up.
Most important specifications at a glance:
.

Xiaomi M365 Scooter achieves speeds up to 25 km/h
The battery of this scooter can be charged in 5.5 hours
Model has a weight of only 12.2 kilograms
Simple operation of the scooter


Business use of scooter
The Xiaomi M365 Electric scooter is also ideally suited for business use, such as in spacious factory halls or large industrial estates.
With the scooter, employees have a very fast, clean, safe and fun way of moving around within your company. For more information on this or to request a quote, please contact us at [email protected] or 0342-239999.
Order the Xiaomi M365 Scooter online immediately! Ordered on weekdays before 20:00 = next business day at home.
Specifications
| | |
| --- | --- |
| Range: | 30 km |
| Maximum speed: | 25 km/h |
| Different modes: | Yes, 3 |
| Cruise control: | Yes |
| Engine power: | 250 Watt |
| Battery type: | 7650mAh |
| Climbing ability: | 14 % |
| Charging time: | 5.5 hours |
| Braking distance: | 4 m |
| Release date: | 22. April 2020 |
| Display: | Yes |
| App: | Xiaomi Mi Home App |
| Weight: | 12.7 kg |
| Foldable: | Yes |
| Dimensions folded: | 108.0 x 43.0 x 49.0 cm |
| Dimensions unfolded: | 108.0 x 43.0 x 114.0 cm |
| Colour: | Black |
| Waterproofing: | IP54 |
| Handlebar height: | 73 cm |
| Maximum load weight : | 100 kg |
| Brakes: | Electric (E-ABS) + dual brake discs at the rear |
| Tyres: | 8.5 inch pneumatic tyres |
| Package contents: | Xiaomi M365, Charger, Manual, 4 screws, Hexagonal key |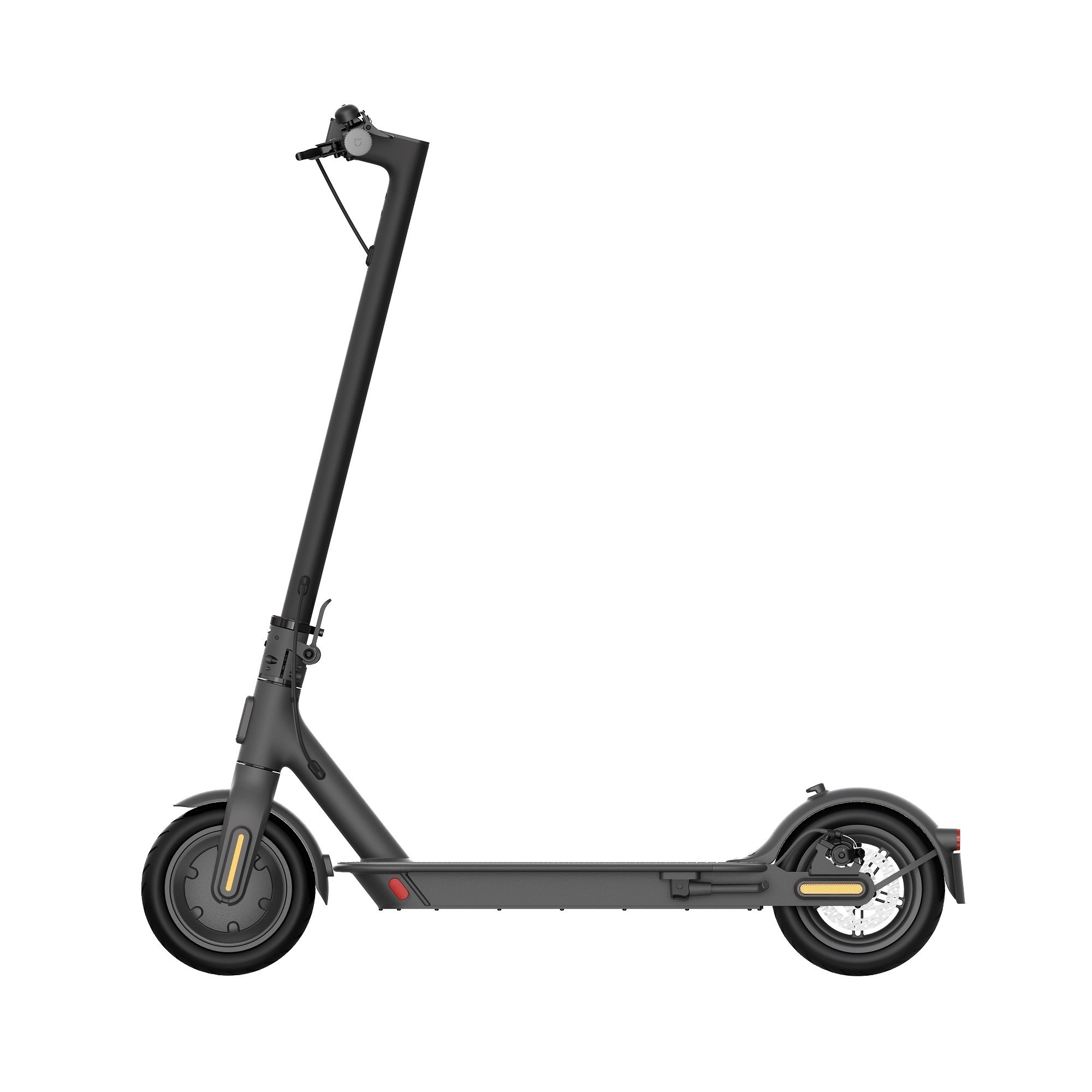 Product delivered on time - all in all I will always be using you for any parts I require - Would make me a bit of an idiot if I didn't seeing as I rated this 5 stars
Lekker stabiel, pittige motor, fijne banden en vooral ook erg leuk om mee te rijden.
Oomsaran
29 December 2019
Perfect voor binnnen .... k werk in de ziggodome en kom ermee overal snel bij.
product (elektrische step), meer dan voldoende verpakt; extra doos over de al stevige doos van de fabrikant.
Erg gemakkelijk in gebruik. Goed te combineren met het reizen in het openbaar vervoer.